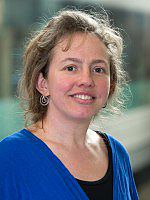 Dr
Rachael Durrant
Biography
In the summer of 2014 Rachael completed her PhD, which investigated the important but under-acknowledged roles that civil society groups play in transitions to sustainability. Within her PhD Rachael developed a novel framework for analysing the ways that civil society groups intervene in and influence systems of provision. She tested this framework against empirical evidence from three UK-based case studies of civil society networks. Her work was part of a larger programme of research known as the Sustainable Lifestyles Research Group (SLRG).
In June 2015 Rachael received a Research and Impact Award for both the dissemination of her doctoral research, which led governments and charities to seek advice on how to support change towards a more sustainable future, and her part in establishing networks that have enabled environmental NGOs and policy makers to connect with each other and with academics working in the area (for more info see 'Brighton and Sussex Universities Food Network' in the Community and Business section below). In addition to her scholarly activities, Rachael works freelance within the UK food and agriculture sector as an adviser, consultant researcher and project manager.
Between 2014 and 2016, Rachael also undertook postdoctoral research into the contribution of social and environmental innovations towards accelerating urban transitions to sustainability. Working as a Research Fellow on an EU project, ARTS (Accelerating and Re-scaling Transitions to Sustainability), her core responsibility was to conduct a detailed case-study centred on Brighton and Hove, analysing existing efforts to improve sustainability performance and then developing potential new strategies to accelerate progress. The work emphasised the ways in which local policy and governance could be better co-ordinated, with a view to accelerating transitions.
From late 2016 Rachael took on a new role coordinating the Low Cost Technologies (LCT) project on behalf of Professor Joanna Chataway and supporting her with the development of links between research and teaching within the SPRU MSc programmes. Rachael took maternity leave from this post in February 2017 and returned in November 2017 to work on the new Sussex Sustainability Research Programme (SSRP) project outlined below.
During 2017-18 Rachael also worked as a Research Fellow within the Values and Sustainability Research Group (VSRG) at the University of Brighton. The VSRG is an innovative, multi-, inter- and trans- disciplinary team headed by Professor Marie Harder. The work of the group is deeply concerned with the application of human values in relation to civil society and has strong connections to the fields of Sustainable Design and Education for Sustainable Development (ESD).
From 2017-19 Rachael led the social science side of an interdisciplinary Sussex Sustainability Research Programme (SSRP)-funded project that she and Principle Investigator Dr Chris Sandom from Sussex's Department of Biology co-designed. The Rewilding and Community Agriculture project looked for commonality and compromise in the use of land for community agriculture and rewilding in the South-East of England, to determine how food security and nature can be supported in heavily populated regions.

Role
Rachael currently works as a Research Fellow within the transdisciplinary EU H2020 SONNET (Social Innovation in Energy Transitions) project, co-leading two work packages on co-creation of knowledge with civil society and municipalities and supporting Dr Sabine Hielscher with qualitative in-depth case study work and comparative meta-analysis.
Community and Business
Expert advice
From 2015-17 Rachael provided advice to the Esmee Fairbairn Foundation in an official capacity as a Special Adviser to the chritable trust's Food Strand, which distributed around £2 million per year in grants for charitable work that aims to achieve an alternative system that produces higher quality food in ways that are better for people, the environment and livestock. Rachael previously worked as a contractor for the trust, providing advice and analysis on an ad-hoc basis since 2007.
Rachael has also advised both the UK Government in London and the Scottish Government to provide forms of support for civil society organisations (CSOs) that respond to their roles as innovators, and has engaged with a number of CSOs directly, helping them to analyse their organisational strategies and identify opportunities for enhancing their impact.
Network building
In addition to influencing policy-makers and funders, Rachael has facilitated the development of collaborative relationships between non-academics and academics. In 2012 she co-founded and led an interdisciplinary, multi-institutional hub for food research, education and activism, the Brighton and Sussex Universities Food Network (BSUFN). BSUFN has more than 140 members, including local food producers, community nutritionists, food educators, campaigners, journalists and chefs, and has hosted several public events. These events helped to raise the profile of food research, build engagement with local organisations and create capacity within the network. In addition, Rachael played a key role in securing funding for a new initiative that would facilitate joint working by academics and NGOs at the national level – the Food Research Collaboration.
Rachael's involvement with BSUFN
Rachael and SPRU colleague Rebecca White kick-started BSUFN at the beginning of 2012. Frustrated by both the lack of opportunities for them to support and enhance the work of local voluntary organisations and activists, and the invisibility of food studies within Sussex, they started network-building with the aim of creating a local hub for exchanging ideas and resources amongst both scholars and practitioners of food. They first collated a list of academics
doing research on related issues at Sussex and Brighton universities using their existing contacts and then built of this by holding termly meetings throughout 2012. Because food touches so many aspects of life, society and the environment, they connected with scholars from a wide range of disciplinary backgrounds, including Anthropology, Development Studies, Sociology, Public Health Studies, Hospitality/Culinary Studies, Human Geography, Tourism and Recreation, Nutrition, Plant Sciences, Media Studies, Philosophy, Education, Psychology and Science and Technology Policy Studies.
During the summer of 2012 they made two successful applications for funding to run larger events for the network. The funding was provided by the University of Sussex's Researcher-Led Initiative Fund and Research Themes Fund. The first of these was the network's first Symposium in November 2012 and the second was a day-long workshop called 'Community-University Food Links: Exploring options for collaboration', held in April 2013 (see below). They also co-hosted two other events in 2013, the first being a visit to Tablehurst and Plaw Hatch Community farms (one of the first Community Supported Agriculture (CSA) initiatives in the UK), and the second being a day long workshop, run in partnership with WWF-UK, to explore how the concept and practice of mindfulness and cognitive therapy can influence food research, education and activism, 'Tasting Mindfulness' (see below).
In early 2014 Rachael handed over the organisation of BSUFN to a wider group of scholars from across the two universities. This was formalised at an event held in May 2014 ('BSUFN: Next Steps'). Under the principal guidance of SPRU colleagues Ruth Segal and Rachael Taylor, with growing support from others, the network has continued to flourish and grow. In particular, BSUFNs website, along with an active Twitter account, has significantly increased the reach of the network's activities, research, and topics of interest. February 2015 marked the network's second academic symposium, 'The Diversity of Food Research'.
Since February 2015 Rachael has continued to sit on BSUFN's steering group where she is an advocate of initiating, supporting and undertaking collaborations between academic and non-academic members of the network, and local community groups. In September 2016 BSUFN had nearly 200 members from across academic disciplines, six other UK universities, two universities overseas, over 35 non-academic organisations, and a range of individuals and community groups. The network's annual symposium in February 2017 tackled the issue of 'Food Agendas in a Post-Brexit Future'.
Qualifications
University of Sussex: DPhil, Science, Technology and Innovation Studies, 2010 – 2014
University of Worcester: MA, Sustainable Development Advocacy, Distinction, 2007 – 2008
University of Cambridge: BA hons (MA), Geography, 2.1, 2002 – 2006
Activities
BSUFN Events organised by Rachael
Food and the Public Good: the first Brighton-Sussex Food Research Network symposium
Falmer, 26 November 2012
Rachael Durrant and colleague Rebecca White hosted 42 people who were gathered for a one-day symposium under the title 'Food and the Public Good'. The day comprised thirteen presentations on food related research from academics at all career stages, and from across departments in Brighton and Sussex Universities. The symposium was funded by the University of Sussex's Researcher Led Initiative (RLI) Fund and the impetus for the symposium came from their experiences in building a food research network (see BSUFN above).
Community-University Food Links: Exploring options for collaboration
Brighton, 15 April 2013
Along with support from the Brighton and Hove Food Partnership and Elona Hoover at Brighton University, Rachael Durrant and colleague Rebecca White ran a day long workshop looking at community-university links around sustainable food systems on the 15th of April. It was attended by 30 people representing civil society organisations, grassroots community groups, Sussex and Brighton Universities, the County Council and food enterprises. Through a series of exercises everyone enthusiastically explored their needs, desires and concerns about what stronger links between universities and local organisations working on food might look like and how they might work. We aim to foster strong relationships productive of positive social change in the food system, and this was a really good start towards making that a reality.
Tasting Mindfulness: Exploring how mindfulness meditation and cognitive therapy can influence food research, education and activism
Lewes, 22 May 2013
With support from Niamh Carey of WWF-UK, Rachael Durrant organised a day long workshop on the 22nd of May to explore how the concept and practice of mindfulness can support a change in our relationships to food. It was attended by 15 people with backgrounds in academia, education, therapeutics, activism and local enterprise relating to food. The participants were provided a presentation by Rachel Lilley from Aberystwyth about behaviour change and the focus of her research on sustainability and mindfulness. They were then taken through different practices, including a body scan, mindful movement, a silent meal, a 'dealing with difficulty' exercise, and an exercise in which they led their partners through a mindful eating experience. By engaging in and reflecting on these practices they explored possible uses for mindfulness in relation to their personal connection with food and work in sustainability, health and other related issues.