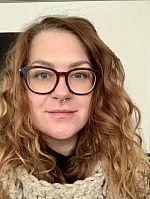 Dr
Clio Berry
Biography
I completed my PhD at Sussex with Dr Kathryn Greenwood in 2014. I now work with Professor David Fowler as a Research Fellow in the School of Psychology and the Trial Manager for the NIHR HTA funded PRODIGY Trial (ISRCTN47998710) - 'Prevention of long-term social disability amongst young people with emerging psychological difficulties'.
I have worked with Sussex Partnership NHS Foundation Trust since 2007, supporting in the delivery of research projects and mental health trials including SuperEDEN3, CIRCLE, Mindfulness 4 Voices, the EYE project and the Voices Clinic. Prior to this, I completed my undergraduate degree, BA Hons Psychology and Philosophy, in 2007 at the University of Reading.
Role
Research Fellow
Community and Business
Since 2015, I have been working in collaboration with Youth Employability Services Brighton and Professor David Fowler to explore the mental health, wellbeing, activity and social lives of young people who are Not in Employment, Education or Training.
Qualifications
DPhil Psychology, University of Sussex, 2014.
Psychology and Philosophy (BA Hons, First Class), University of Reading, 2007.
Activities
Clinical Researcher and PhD Student working group (University of Sussex)