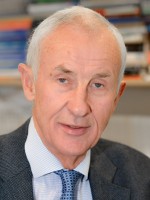 Prof
David Storey
Role
David Storey, OBE, is Professor at the Department of Business Management and Economics at University of Sussex, UK. He has a First Class Degree in Economics, a Diploma in Applied Statistics and a PhD in Economics. He has two honorary Doctorates and has been Visiting Professor at the Universities of Manchester, Reading and Durham and an International Fellow at Sydney University.
Landstrom and Harichi in Research Policy 2018 47(3), 650-662 report that David Storey's book Understanding the Small Business Sector is in tenth place overall in the Entrepreneurship "core works" based on Handbook citations and in eighth place based on top Entrepreneurship journal citations.
Since 2014 David Storey has published in Journal of Business Venturing, Entrepreneurship Theory and Practice, Environment and Planning A, Small Business Economics, International Small Business Journal and Regional Studies.
He is, in conjunction with Indianna Minto-Coy and Jonathan Lashley of the University of the West Indies, preparing a special issue of Entrepreneurship and Regional Development on Entrepreneurship in Caribbean. This is due to appear in 2018.
In 1998 he received the International Award for Entrepreneurship and Small Business Research from the Swedish Council. He has also been awarded a Wilford White fellowship from the International Council for Small Business (ICSB) and is a Fellow of the Institute of Small Business and Entrepreneurship (ISBE).
Between 2001 and 2005 he was appointed by the UK Secretary of State for Trade and Industry as a Member of the Small Business Council which advised the government on small business policy-making.
He has also undertaken work for many overseas governments and organisations. For example he has acted as consultant to the governments of Australia, Mexico, New Zealand, Denmark and Sweden. He collaborated with the World Bank in producing an enterprise plan for Malaysia. He produced for OECD in 2008 a Handbook on SME policy evaluation, contributed to their work for the G20 and to joint work with IDRC on enterprise in the Middle-East and North Africa (MENA) region. In previous years he has advised the Inter-American Development Bank (IADB) on micro enterprises in Trinidad and Tobago and Jamaica, and IFC on Mexico. In Europe he co-ordinated an EU-wide review of new technology based firms for DG XIII.
In 2016 he worked with Eurofound on "Start-up support for young people in the EU: From Implementation to Evaluation.