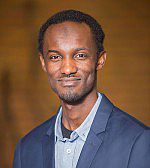 Dr
Mahmoud Maina
Biography
I am a Research Fellow in the Serpell Laboratory, Sussex Neuroscience studying neurodegeneration. I obtained my BSc in Human Anatomy from the University of Maiduguri, Nigeria, where I developed a keen interest in Neuroscience. Afterwards, I served as a Lecturer at the School of Psychiatric Nursing, Federal Neuropsychiatric Hospital Maiduguri, Nigeria, where my interest in Neuroscience became consolidated. I later joined Gombe State University's College of Medical Sciences in Nigeria as a Lecturer.
In 2011, I joined the University of Sussex for my MSc in Cellular and Molecular Neuroscience and graduated with the top distinction in my class. My MSc performance and high enthusiasm in research led me to win the University of Sussex Chancellor's International Research Scholarship (CIRS) for my PhD in the Serpell Laboratory on the role of nuclear Tau in Alzheimer's disease. This work revealed a new role for Tau other than binding the microtubules and has been published in multiple articles.
When I am not in the Lab, I would be found somewhere passionately promoting and communicating science. I have organised and participated in science communication activities in Africa and the UK. I founded the TReND in Africa Outreach Programme and serve as the Outreach Coordinator. I also founded Science Communication Hub Nigeria to enhance students access to science role models and public access to accurate science. I was a recipient of the Royal Society of Biology Science Communication Award in 2017, New England Biolabs Passion for Science Humanitarian Duty Award in 2019 and I became a Fellow of the Royal Society of Arts in 2018 with a mission to enlarge science through public engagement in Africa.
Role
Research Fellow
Qualifications
BSc Human Anatomy (Second Class Upper), University of Maiduguri, Nigeria
MSc Cellular and Molecular Neuroscience (Distinction), University of Sussex, UK.
PhD Neuroscience, University of Sussex, UK