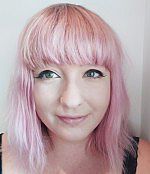 Ms
Rosa Marvell
Biography
Rosa Marvell is an ESRC-funded doctoral researcher in the Department of Education, associated with the Centre for Higher Education and Equity Research (CHEER) and the Centre for Teaching and Learning Research (CTLR).
Her doctoral study, entitled 'Exploring postgraduate taught (PGT) trajectories through the narratives of first-generation students enrolled on Master's Programmes in England', is focused on the complexity and topography of journeys into Master's-level study, explored through life-history narrative interviews and visual timelining. She is particularly interested in how structural, material and symbolic resources, networks and moments help, hinder or otherwise shape those journeys, as well as aspects such as the segmentation of the Higher Education sector and the influence of increasing labour market precarity. She is also interested in the intersection between Widening Participation research/practice and higher-level study.
In addition to her doctoral research role, Rosa is also an Associate Tutor for sociology (and was awarded an Associate Fellowship of the Higher Education Academy - AFHEA - in 2019), and was a founding managing editor for Sentio, a student-led interdisciplinary social science journal supported by ESRC via the South-east Network for the Social Sciences (SeNSS): https://sentiojournal.wordpress.com/.
Prior to joining the University of Sussex, Rosa was a Research Fellow at the Institute for Employment Studies (IES) (joining in 2013) with particular expertise in qualitative research and mixed-method evaluation techniques. At IES she specialised in researching inclusion in Further Education, Higher Education and the labour market for a range of public, private and third sector clients including major UK Government Departments and EU directorates and agencies.
Role
ESRC Doctoral Student, Department for Education, University of Sussex
Associate Tutor, Department of Sociology, University of Sussex
Associate Researcher, School of Education and Social Work, University of Sussex
Research Associate, Institute for Employment Studies
Academic Tutor, Realising Opportunities, University of Sussex (2018, 2019)
Community and Business
Sussex Learning Network Community of Practice - Member (2017 - Present)
Student Rep - Education PGR (2018-19)
Qualifications
2017-ongoing PhD Education, The University of Sussex
2019 Associate Fellowship of the Higher Education Academy (AFHEA)
2012-13 MA Globalisation, Ethnicity and Culture (Dist.), The University of Sussex
2009-12 BA Anthropology (2(i)), The University of Sussex