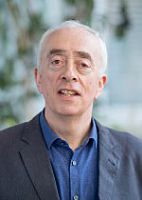 Prof
Laurence Pearl
Biography
Professor Laurence Pearl FRS is Professor of Structural Biology in the Genome Damage and Stability Centre at the University of Sussex. From 2099 to 2017 he was Head of the School of Life Sciences. From October 2018 he will hold a joint appointment as Director of the Division of Structural Biology at the Institute of Cancer Research.
For the previous 10 years Professor Pearl was Professor of Protein Crystallography at the Institute of Cancer Research in London, where he was also Chairman of the Section of Structural Biology and a member of the Board of Trustees.
His laboratory studies the structural biology of DNA repair, signal transduction (the process by which a cell converts one kind of signal or stimulus into another) and molecular 'chaperones'.
Professor Pearl began his research career at Birkbeck College, University of London and, after postdoctoral research at the Institute of Cancer Research, started his own laboratory at University College London in 1989, becoming Professor of Structural Biology in 1996.
He was awarded his PhD from Birkbeck in 1983. He previously did an MSc in Crystallography at Birkbeck and before that a BSc in Biochemistry at UCL.
Professor Pearl's seminal contributions to scientists' understanding of the recognition and repair of DNA damage and the function of molecular chaperones was recognised in 2008 with his election as a Fellow of the Royal Society (FRS).
He is also a Fellow of the Academy of Medical Sciences, and an elected member of the European Molecular Biology Organisation (EMBO), and the Academia Europeae.
He is a founder and non-executive director of Domainex Ltd, a contract research company that was named UK Bio-entrepreneurial Company of the Year by the Department for Trade and Industry (DTI) in 2007.
In 2011 he was the recipient of an Inaugral Wellcome Trust Senior Investigator Award.
In 2013 he received the Cancer Research UK Translational Research Prize (jointly with Paul Workman, ICR), and in 2018 he was awarded the Novartis Medal and Prize by the Biochemical Society.
Role
Professor of Structural Biology (Genome Damage and Stability Centre)