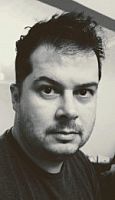 Dr
Tarik Kochi
Biography
I joined Sussex in September 2009. I hold a Doctorate in Law from Griffith University, Brisbane, Australia (2005) and undergraduate degrees in Law and Politics from Griffith University, Brisbane, Australia (2001). From 2004-5 I was a DAAD Research Fellow in the Philosophy Faculty, Eberhard Karls Universität, Tübingen, Germany and in 2006 a Research Fellow in the Altonaer Stiftung für Philosophische Grundlagenforschung (Altona Foundation for Philosophical Research), Hamburg, Germany. From 2006-9 I was a Lecturer in Law at Queen's University Belfast, Northern Ireland.
My research is in legal and political theory. I have written on questions related to conflict and security and am currently focussing upon questions of law and political economy. I am interested in issues related to violence, war and international law, as well as the relationship between law and capitalism more generally.
In 2010 The Other's War: Recognition and the Violence of Ethics (Birkbeck Law Press, 2009) was awarded the International Studies Association, International Ethics Book Prize. In 2014 I was awarded a Research Fellowship by the Leverhulme Trust to work on a project entitled "Law's Material Constitution: Reconceptualising the Global Legal Order".

My latest book is Global Justice and Social Conflict: The Foundations of Liberal Order and International Law (Routledge, 2019).

https://www.routledge.com/Global-Justice-and-Social-Conflict-The-Foundations-of-Liberal-Order-and/Kochi/p/book/9780367406813
https://books.google.co.uk/books?id=bF2yDwAAQBAJ&pg=PT6&source=gbs_selected_pages&cad=2#v=onepage&q&f=false
Role
Joint-Deputy Research Lead (SLS)