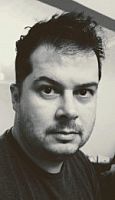 Dr
Tarik Kochi
Biography
I am a legal and political theorist working within the traditions of critical theory, critical legal theory, international poltical theory, historical sociology and the history of political thought. I have written on topics ranging from the critique of international law, global justice, the ethics of war and terrorism, the critique of human rights, environmental ethics, the critique of neoliberalism and right-wing, 'populist' nationalism.
My first book The Other's War: Recognition and the Violence of Ethics (Birkbeck Law Press/Routledge, 2009), offers a critical revision of the Western intellectual tradition's understanding of the ethics of war and terrorism and presents an idea of 'recognising the ethics of the others war' as the normative challenge of contemporary legal and political orders. The book was awarded the 2010 International Studies Association, International Ethics Book Prize.
My latest book is Global Justice and Social Conflict: The Foundations of Liberal Order and International Law (Routledge, 2019). This presents a historical and theoretical reappraisal of the ideas and conceptual frameworks that underpin and sustain the global liberal order, international law and neoliberal rationality. In the book I argue that any account of global justice must by definition be an accout of social conflict and I show the extent to which contemporary global relations are constituted by struggles over property, capitalist accumulation, equality and dignity. I argue that the only viable future for modern international law resides in the creation of an egalitarian and democratic global constitutional order. You can find links to the book below:
https://www.routledge.com/Global-Justice-and-Social-Conflict-The-Foundations-of-Liberal-Order-and/Kochi/p/book/9780367406813
https://books.google.co.uk/books?id=bF2yDwAAQBAJ&pg=PT6&source=gbs_selected_pages&cad=2#v=onepage&q&f=false
I am currently working on a project which examines the links between right-wing nationalism and neoliberal ideology.
I am happy to supervise PhD students in legal and political theory, critical international legal theory, and social and political thought.
Role
Joint-Deputy Research Lead (SLS)