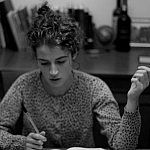 Dr
Arianne Shahvisi
Biography
Ph.D. in Philosophy, University of Cambridge, 2013
M.St. in Philosophy of Physics, University of Oxford, 2010
M.Sc. in Astrophysics, University of Cambridge, 2009
B.A. in Natural Sciences, University of Cambridge, 2008
Arianne Shahvisi is a philosopher with diverse research interests in applied ethics, the philosophy of science, and social epistemology. Her current projects focus on the ethics of genital alterations, migration and borders, and global health ethics.
Having recently completed a Postgraduate Certificate of Higher Education (PGCertHE), Arianne is a Fellow of the Higher Education Academy. She teaches courses in feminist bioethics, gender studies, global health ethics, social determinants of health, and the philosophy of mind.
Arianne serves as an editorial board member of Kohl: Journal for Feminist Research on Gender and the Body in the MENA Region and is science editor for literary magazine The Offing, which seeks out and supports work by those marginalized in literary spaces.
Role
Arianne Shahvisi teaches humanities courses to undergraduate and graduate students at the Brighton and Sussex Medical School, and supervises doctoral students. She conducts research across a range of topics in applied philosophy, and is a member of the Centre for Cultures of Reproduction, Technologies and Health at the University of Sussex, the Centre for Applied Philosophy, Politics and Ethics at the University of Brighton, and the Centre for Global Health Research at BSMS.
Community and Business
Arianne has written commentary for the New Statesman, Jacobin, Open Democracy, and The Conversation, and was awarded the Kamal Salibi Award for services to academic freedom in 2015. She has appeared on BBC Radio and Channel 4 News, and has advised politicians on conscientious objection in the context of abortion provision, and the marginalisation of women's health.
Arianne teaches gender studies for the Free University of Brighton, which offers free lectures and workshops within the local community. She also teaches ethics within the widening participation initiative BrightMed, and has given talks in her local pub as part of the Brains at the Bevy initiative.