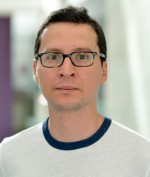 Mr
Edgar Salgado Chavez
Biography
Ph.D. in Economics and M.Sc. in Development Economics (awarded with distinction) from the University of Sussex, United Kingdom, and a B.A. in Economics from Universidad del Pacifico, Peru. He has been awarded by the Peruvian Central Bank with the 2007-2008 Felipe de las Casas Research Award for Young Economists (Second Place). Dr. Salgado spent two years at Innovations for Poverty Action in New Haven, CT, United States. There he took part in impact evaluation of different kinds of interventions using randomized controlled trials. Previously Dr. Salgado worked in the Ministry of Agriculture and the Research Center at Universidad del Pacifico in Lima, Peru. His academic interest covers rigorous impact evaluations with focus on microfinance, targeting strategies, social networks, capital accumulation, firm's behavior and consumption modeling. He has experience in handling household surveys and large datasets to conduct social-related analysis with focus on poverty, uncertainty and consumption modeling. His work experience also covers macroeconomic simulation using general equilibrium models, industrial organization, firm's growth and performance, and structural change.
Role
Research Fellow in Innovation and Inequality
Qualifications
Ph.D. Economics 2017, University of Sussex, UK.
M.Sc. Development Economics (with distinction), 2010, University of Sussex, UK.
B.A. Economics, 2005, Universidad del Pacifico, Peru.