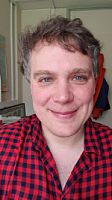 Prof
Carl Griffin
Biography
I joined the School of Global Studies in 2013 as a senior lecturer in human geography. I became Deputy Head of Department in 2015, was promoted to Reader in Historical Geography in May 2016, and became Head of Department in August 2016 (until July 2019) and was promoted to a personal chair in May 2018.
I was fortunate to start my academic career at the University of Bristol, where after being awarded my BSc (1st class) in 1998 and PhD in 2002 I held an ESRC post-doctoral fellowship in the School of Geographical Sciences. After leaving Bristol, I held a teaching fellowship at the University of Southampton (2004-5) before moving to the University of Oxford, and then to Queen's University Belfast in 2006 where I spent seven happy years.
My research focuses on the geographies of popular protest and capitalist transformations in eighteenth- and early nineteenth-century Britain and Ireland. I passionately believe that quality research builds directly upon quality teaching. At Sussex, I teach modules on cultural and historical geography and social theory. I was chair of the Historical Geography Research Group (2012-2016), and am co-editor of the journal Rural History (Cambridge University Press) and editor of Southern History (Southern History Society).
For copies of some of my papers see: https://sussex.academia.edu/CarlGriffin Otherwise please e-mail and I would be delighted to share my research with you.
Role
Professor in Historical Geography
External roles:
Co-Editor, Rural History (Cambridge University Press)
Editor, Southern History (Southern History Society)
Executive Committee Member - British Agricultural History Society
Committee Member - Southern History Society
Fellow (Elected) - Royal Historical Society
Fellow (Elected) - Higher Education Academy
Formerly:
Chair, Historical Geography Research Group of the RGS-IBG (2012-2016)
Editorial Board - Geographical Journal (2010-2017)
Conference Advisory Group, International Conference of Historical Geographers 2015
Invited panel member (Historical Geography and Early-Mid Career panels) - ESRC/AHRC Human Geography International Benchmarking Review