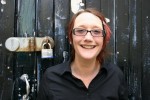 Prof
Lucy Robinson
Post:
Professor in Collaborative History (History)
Other posts:
Joint Head of Department of History (School of History, Art History and Philosophy)
Senior Lecturer In History (Centre for the Study of Sexual Dissidence)
Location:
ARTS A A036
Email:
L.Robinson@sussex.ac.uk

Telephone numbers
Internal:
7675
UK:
01273 877675
International:
+44 1273 877675

Research expertise:
download vCarddownload vCard to your mobile
Biography
I went to Oxford Brookes University as a mature student and took a joint honours degree in English Studies with History. I then moved to Sussex to take the English Literature masters programme, Sexual Dissidence and Cultural Change. After which I moved back into History for my Dphil research, 'Gay Men and the Revolutionary Left in Britain since 1957 - Tracing the development of Identity Politics', which was awarded in 2003. It was published as 'Gay Men and the Left in Post-war Britain: How the personal got political' by MUP in 2007. Since my appointment at Sussex I have been developing teaching and research in the History of the 1980s.
Role
I am a member of University and College Union, Professor of Collaborative History and am curently Head of Department (Research). I teach contemporary British History I am also academic lead one the teaching led digitisation project Observing the Eighties and on a founding organiser of the Network for Subcultures, Popular Music and Social Change and the documenatary project Queerama.
https://orcid.org/0000-0002-4597-7339
Community and Business
Lucy has worked with museums, community groups, local history groups and media practioners. Lucy has worked with veterans artists and writing from the Falklands War in two projects MARS (Morality and the Representation of Suffering) and Translate Trauma. In 2011 Lucy co-launched a collaborative project with musicians, fans, documentary makers and broadcasters looking at rockumentary - musicDOC11. She also co-authored an influencial report on the kettling of young protestors. Political Protest and the Police: Young People in Brighton, Centre for Applied Philosophy, Politics and Ethics. 2011. Her work on the JISC funded digitalisataion project 'Observing the Eighties' has gained considerable press attention. She is also co-founder of a new network 'Subcultures, Popular Music and Social Change', which has recently been awarded an AHRC network grant. She has appeared at various public events for example, at Sheffield Documentary Festival talking about Fan Cultures and at the ICA talking about countercultures. and was historical consultant to Jersey Heritage's exhibition 'Bergerac's Island' and the 2017 documentary Queerama
A recent Podcast for the Impacted series at Sussex University outlines how she works in the community and with her students.