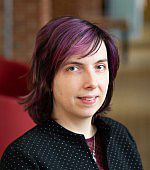 Dr
Frederique Bone

(formerly Lang)
Post:
Research Fellow (SPRU - Science Policy Research Unit)
Other posts:
Research Fellow in Science Policy (Data Intensive Science Centre at the University of Sussex)
Location:
JUBILEE BUILDING JUB-322
Email:
F.Bone@sussex.ac.uk

Telephone numbers
Internal:
7203
UK:
01273 877203
International:
+44 1273 877203

Research expertise:
download vCarddownload vCard to your mobile
Biography
Frédérique BONE (formerly Lang), MSc, PhD (University of Strasbourg)
Frédérique Bone is a research fellow at SPRU (University of Sussex). Dr Bone has been working on biotech innovation for 8 years. She has focused on the development of innovative biotech research projects through academic entrepreneurship during her PhD at BETA in the University of Strasbourg. After her PhD, she has worked on an MRC research project looking at new ways of evaluating translational research projects, where the DARE (Diversity Approach for Research Evaluation) was developed.
She has been working on a variety of topics covering Research dynamics, technological change in the biomedical sector and more recently Artificial Intelligence.
She is now working on three projects. The first project aims at understand how researcher work within diverse teams. The second project aims at tracing mass production using newspaper and magazine articles from particular source over a period of 150 years. The third one aims at understanding technological trends in the development of diagnostics in three areas of cancer: colorectal, lung and prostate cancer. Her main interests lies in research evaluation using both scientometric and qualitative methods (independently or as a mix) as well as technological and firms dynamics in the biomedical sectors.
She is also convening a interest group within the School on the impact Artificial Intelligence to business practices and policies.
Role
Research Fellow, SPRU, University of Sussex Business School, since August 2014