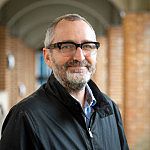 Mr
Paul Mcconnell
Biography
Senior Teaching Fellow MFM Specialising in intearctive media and animation.
Creative Systems MSc (University of Sussex - Informatics)
PGCSE (OU)
Fine Art BA(Hons)
Role
Subject Head - Creative and Critical Practice
Senior Teaching Fellow in the School of Media, Film and Music. Teaching on Digital Media courses at undergraduate and postgraduate level.