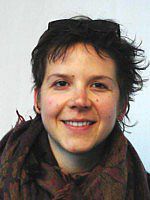 Dr
Valentina Cartei
Role
Researcher
I am a researcher within the School of Psychology at the University of Sussex. My current project "Voice and Sex Stereotypes" has been funded by Leverlhulme Trust. The project combines cognitive, evolutionary and social approaches to understand the contribution of the human voice to gender role stereotyping.
Follow: https://www.researchgate.net/project/Voice-and-Sex-Stereotypes-a-Developmental-Perspective for the latest updates on this project.
My other field of interest and expertise is sexual violence recovery and prevention. Over the past ten years I have worked for Survivors' Network, Rape Crisis Centre for Sussex, and co-funded DonneOltre, the first Italian charity supporting women survivors of child sexual abuse.
I am currently the University of Sussex lead trainer on the European project "Universities Supporting Victims of Sexual Violence Project" http://usvreact.eu/, and a trustee for Survivors' Network and Rape Crisis England and Wales.
Qualifications
Postgraduate & Undergraduate Education
2014-2016: BPS-accredited Psychology Conversion Course (University of Derby, School of Psychology). Conducted part-time. Gained accreditation as Chartered Psychologist by the British Psychological Society.
2008 – 2014: PhD (University of Sussex, School of Psychology). Conducted part-time. Passed without corrections.
Supervisor: Dr. David Reby – Senior Lecturer in Psychology.
Doctoral thesis: "The Expression of Gender in the Human Voice: investigating the 'gender code' "
Using a combination of acoustic analyses and playback experiments with children and adults in individual and group settings, I carried out the first systematic investigation of the behavioural basis of gender expression in the human voice, linking evolutionary and social perspectives.
As part of my PhD I received advanced training on cognitive and evolutionary psychology, vocal mammal communication, audiovisual analysis and resynthesis (PRAAT software, MatLab), statistical skills (SPSS, AMOS) and observational methods. I also successfully passed the Research Methods and Discourse Analysis modules. I also co-organised an interdesciplinary seminar on Gender and presented on behalf of Mammal Vocal Communication Group in the School of Psychology.
2007 – 2008: Certificate in Social Science (Open University)
This course enabled me to apply my established academic abilities to studying social science. The "Exploring Psychology" module introduced me to a wide range of psychological approaches, including biological, social, and cognitive psychology, as well as different types of quantitative and qualitative research methods.
2004 – 2005: MSc in Music Information Technology (City University, London). Distinction.
Thesis: Steganography in Music and Speech.
Gained advanced knowledge of psychoacoustics, acoustics, audio processing and resynthesis.
2001 - 2004: BSc in Computer Science (Pisa University, Italy). First class 100%.
Gained advanced knowledge of programming and data handling. Research project: "on-line 3D technology in learning and cultural environments", in collaboration with 'PERCRO' Research Centre, Sant' Anna School of Advanced Studies, Italy.
Developed advanced analytical, critical thinking and programming skills by developing and applying algorithms to solve real-life problems.
Activities
PROFESSIONAL SERVICE / MEMBERSHIPS
2017-present: Trustee of Survivors' Network, Rape Crisis Centre for Sussex
2016-present: Graduate Member of the British Psychological Society (BPS)
2013-present: Fellow of the Higher Education Academy (FHEA).
2012-2015: Reviewer for Child Development and Journal of Homosexuality.
2014-2015: Associate Member of the Research Centre of Gender Studies Steering Group (University of Sussex).
2014-2017: Trustee for Rape Crisis England & Wales and Regional Representative for the South East Region.
2010-2011: Member of the Steering Group for Ngender Seminar Series (Sussex University).