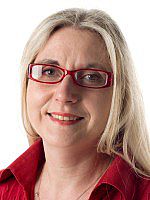 Prof
Antonella De Santo
Biography
Employment
2013 - : Professor of Physics, University of Sussex, UK
(Royal Society Wolfson Research Merit Award Holder, 2017-2022)

2009 - 2013 : Reader in Experimental Particle Physics, University of Sussex, UK

2003 - 2009 : Lecturer in Physics, Royal Holloway, University of London, UK

2000 - 2003 : Post-doctoral Research Fellow, University of Oxford, UK

1998 - 1999 : Research Fellow, Experimental Physics Division, CERN, Switzerland

1997 : Research Fellow, U. of Pisa, Italy & LAPP, France; visiting scientist, CERN, Switzerland

Education
1997 : PhD, University of Pisa, Italy

1993 : MPhys ("Laurea in Fisica"), Summa cum laude, University of Pisa, Italy

Role
Sussex ATLAS Team Leader (2009-)
Formerly:
Head of Sussex Experimental Particle Physics (2012-2017)
Director of Doctoral Studies, School of Mathematical and Physical Sciences, Sussex (2015-2017)
Community and Business
Peer Reviewing
I am a firm believer in the value of rigorous peer-reviewing of science and I am glad to offer my expert services to the community when required.
I have served on the following committees:
From 1 Oct 2017: Elected member of the ATLAS Collaboration Speakers Committee
2016-current: Non-core member of STFC Science Board (PPAN)
2015-2017: Elected member of the ATLAS Collaboration Publication Committee
2011-2015: Member of the STFC Particle Physics Grants Panel
2007-2010: Member of the STFC Project Peer-Review Panel (core member 2008-2009)
2009-2011: Chair of the SEPnet Radiation Detection and Instrumentation research theme.
2009: Member of the SEPnet NExT Steering Committee
I have also acted as expert reviewer for, amongst others, the Science and Technologies Facilities Council, the Royal Society, the Canada Council for the Arts , the Israel Science Foundation.
Public Engagement and Community

I very much enjoy sharing my passion for science by initiating or taking part in physics outreach activities, both regionally and nationally.
I initiated the Sussex version of the International Particle Physics Masterclasses, now an established annual event for our University. Alone or with members of my group, I am or have been active in a number of high-profile science festivals, fairs and exhibitions (the British Science Festival, 2017; the Royal Society Summer Science Exhibition, 2013 & 2014; the Brighton Science Festival, 2013-; the Big Bang Fair, Birmingham, 2014 & 2015). Occasionally, I talk to media about my research on the Large Hadron Collider.
I like to engage with local schools by giving talks to pupils and teachers when I get an opportunity, and by bringing research projects into the classroom. In collaboration with local school teachers, in 2016/17 I launched the HiSPARC international project (http://www.hisparc.nl/en/) in East Sussex. I also try to use my talents to take a more active role at the service of the local community, and I am currently a governor at Cardinal Newman Catholic Secondary school,in Hove, where I am a link governor for maths and science.