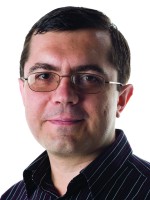 Prof
Ilian Iliev
Post:
Professor of Astrophysics (Physics and Astronomy, Astronomy Centre)
Other posts:
Reader in Astronomy (Data Intensive Science Centre at the University of Sussex)
Location:
PEVENSEY 3 4C5 c/o Sally Church
Email:
I.T.Iliev@sussex.ac.uk

Telephone numbers
Internal:
3737
UK:
01273 873737
International:
+44 1273 873737

Research expertise:
download vCarddownload vCard to your mobile
Biography
Employment
2018 - present: Professor, University of Sussex
2014 - 2018: Reader in Astronomy. University of Sussex
2012 - 2014: Senior Lecturer in Astronomy, University of Sussex
2009 - 2012: Lecturer in Astronomy, University of Sussex
2007 - 2008: Postdoctoral Researcher, University of Zurich, Switzerland
2003 - 2007: Postdoctoral Researcher, Canadian
Institute for Theoretical Astrophysics (CITA), Canada
2001 - 2003: Postdoctoral Researcher with the European
Research Network``The Physics of the Intergalactic
Medium'', Osservatorio Astrofisico di Arcetri, Italy
2000 - 2001: US National Science Foundation
International Research Fellow, Instituto de Astronomia,
Universidad Nacional Autonoma de Mexico (UNAM), Mexico
Education
1994 - 2000: Ph.D. in Physics, University of Texas at Austin
1989 - 1994: Diploma in Physics, Sofia University, Sofia, Bulgaria
Role
Sussex representative for the LOFAR-UK and SKA-UK projects.
Core member of the LOFAR Epoch of Reionization Key Science Project.
Member of the SEPnet (SouthEast Physics Network) Astro Managing
Committee.
Member of the Petascale User Committee at The Texas Advanced Computing
Center.
Leader of the international Cosmological Radiative Transfer Comparison Project.
US National Science Foundation proposal review panelist (2006-2014).
Referee of observing time proposals for Gemini Observatories, of grant proposals for NWO (Netherlands Science Foundation) and of grant proposals for L'Agence Nationale de la Recherche (French National Research Agency).