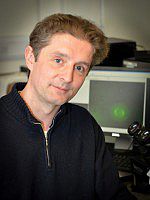 Dr
Helfrid Hochegger
Biography
Dr Hochegger is a Reader in Genome Stability and heads the cell cycle control lab at the GDSC investigating how human cells enter mitosis and how this process has been changed in cancer.
Dr Hochegger received his PhD at ICRF Clare Hall with Nobel laureate Sir Tim Hunt, followed by a five-year stay as a postdoctoral fellow at the University of Kyoto, Japan with Prof. Shunichi Takeda.
Dr Hochegger joined the GDSC in 2007 as a Wellcome Trust career development fellow and was subsequently awarded a CRUK senior research fellowship.
Role
Research Group Leader: Mechanisms of Cell Cycle Control