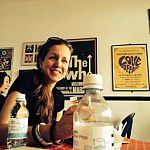 Dr
Tamsin Hinton-Smith
Biography
I first came to Sussex as a single teenage parent undergradaute student in sociology many years ago. This led to the development of some of my primary research interests around 'non-traditional' students in higher education, and experiences of (un)belonging and marginalisations. After developing an academic career in Sociology, including as Co-Director of the Centre for Gender Studies; I moved to the Education department at the University of Sussex in 2014. Here I have continued to develop and expand my interests around people's experiences of accessing and participating in compulsory, further, higher and informal educational contexts; and the organisational cultures that support or inhibit this.
Role
I am a Senior Lecturer in Higher Education based in the School of Education and Social Work, and Deputy Director of the University's Centre for Teaching and Learning Research (CTLR). I also lead the University's Postgraduate Certificate in Higher Education (PGCHE), a Higher Education Academy accredited professional development pathway for academic staff.
Community and Business
Policy engagement includes:
Invited Chair,Wilton Park UK Foreign and Commonwealth Office Global Strategic Discussion Forum 'Promoting women's political and economic engagement: ambition for the future', Higher Education stream
Green Party Annual Conference – invited panel discussion on 'Women and austerity' with party leader
House of Commons research and policy support: families, children and young people, education, and social inequalities
Expert advisor for the National Union of Students (NUS) on student parents (Meet the parents 2009)
Invited expert partiicpation in Student Loans Company Vulnerable Students Stakeholder Group
Community engagement includes:
Invited speaker, Addressing Unconscious bias in organisations: Transferable learning from the university context. Sussex and Surrey Police annual CPD day
Local Widening Participation engagement including research skills training support for teachers and Widening Participation practitioners; Widening participation Summer Schools; and Focus groups and interviews with key stakeholders including young people, parents, community groups, teachers and Widening Participation practitioners.