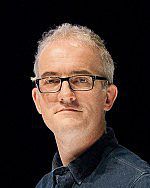 Mr
Tim Hopkins
Biography
Please copy the URLS below into a browser to see
1) a Biograpy of Tim Hopkins' work, which contains a summary of his broader professional history, production credits and lists of collaborators.
2) a set of images illustrating some of these productions. This file is 18Mb. For best results copy and past the URL into a browser.
Last updated in Spring 2013.
1) http://db.tt/aYme0qfF
2) http://db.tt/zmY9bIrJ
Role
From 2007 - 2012, Tim Hopkins was supported by an AHRC Research Fellowship in the Creative and Performing Arts, hosted by Centre for Research in Opera and Music Theatre, Department of Music, School of Media, Film of Music, University of Sussex.
His research focussed on some uses of digital media in relation to opera, in particular various kinds of intermedial relationships made possible by recent technology.
His three research topics explore different configurations of opera, theatre, music, contemporary theatre making, mediation and remediation, in the context of three themes. 1 TV Opera, 2 The Lost Chord, 3 Give me your blessing for I go to a Foreign Land.
The public presentation phase of each research project has been developed in partnership with external producers: 1 (ongoing) wth Aldeburgh Music, 2 (presented in 2010) with Opera North in Leeds and London, 3 (presented in 2009) with The Royal Opera through ROH2 and Opera Genesis.
Tim also participated as a tutor on a variety of courses, MA and BA, that relate to his research area and other professional contexts (opera, theatre making, new media, moving image.)
Since 2012 he has continued his association with the Department, as Research Fellow in Experimental Music Theatre. His current research focusses on issues raised by his project Proms Music Walk 2012, a new music commission using mobile media he devised for the BBC. His professional practice recently includes Occupation www.occupation.org.uk.
Community and Business
Tim's Reserach Fellowship is a part-time commitment. His professional practice in Opera and uses of digital media has continued concurrently. The Felowship activity has related to this other practice in various ways, and vice versa. For example, as Creative Director of BBC Proms Music Walk 2012, www.promsmusicwalk.com a site specific performance project involving new contemporary music commissions, accessed online, responding to locations, and currently (2014-15) as Creative Director of Occupation - Five Songs that Shook the World, commissioned by Welsh National Opera and The Space. www.occupation.org.uk