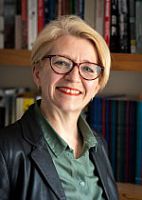 Dr
Jill Kirby
Biography
Dr Jill Kirby completed her PhD at Sussex University in 2014 and is currently a Lecturer in the School of History, Art History and Philosophy at Sussex and convenes the Foundation Year Making History course. She specialises in twentieth-century British history and is particularly interested in everyday life, emotion and stress.
Her book, Feeling the strain: a cultural history of stress in 20th century Britain, is published by MUP in 2019. She is currently working on a project historicising student stress and carrying out pedagogical research on student anxiety in the classroom.

Role
Lecturer and Convenor of Making History module for the Humanities stream of the Foundation Year.
Associate Fellow in the Centre for War and Society.
Jill has taught on the following modules at Sussex and Chichester Universities and Queen's University (Canada) Bader International Study Centre in Herstmonceux Castle:
FY:
Y1:
Society and Politics in Modern Britain
Social History of Britain in the 20th Century
Introductory Humanities Interdisciplinary Studies
Y2:
Time and Place: 1984 Thatcher's Britain
Y3:
Britain and the Second World War
Century of the Gene
Imagining British Identities: Interdisciplinary British Studies