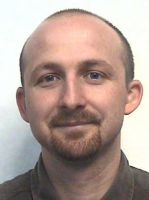 Biography
Lecturer in Mathematics, University of Sussex, 2007-
Post-doctoral Research Assistant, University of Oxford, 2004-2007
Junior Research Fellow, Wolfson College, Oxford, 2005-2007
Ph.D. in Applied Mathematics, University of Leeds, 2004
Teacher of Mathematics, "Colegiul National Silvania" High School, 1998-2000
B.Sc. & M.Sc. in Mathematics, University of Babes-Bolyai, Cluj-Napoca, 1998 & 1999
Role
Research Committee
Careers Tutor
The main focus of my research is on mathematical modelling of infectious disease transmission (mathematical epidemiology). This involves the formulation, analysis and numerical solutions of differential equations and the design and programming of complex individual-based stochastic network simulations along with handling large datasets. In addition, I also use graph theory for the detailed analysis of contact networks. A few areas of interest are:
Understanding the implications of population contact network properties for the invasion, spread and control of infectious diseases
Pathogen dynamics on the network of livestock movements in Great Britain with applications to foot-and-mouth disease and avian influenza
Application of network/graph theory to infectious disease transmission models
The role of resource constraints and optimal allocation of limited control resources in various scenarios of disease control
Interplay between dynamic processes on networks and dynamics of networks including information spread and parasite evolution
For further details and publications please visit my personal webpage.
Methods of Applied Mathematics (840G1 Autumn)
Statistical and Numerical Methods for Bioinformatics (847G1 Spring)
Random Processes (G1101 Spring)
Mathematical Skills for Eng and Design (G5109 Spring/Summer)
Career Development (G5102 Spring/Summer), Course Convenor
For lecture notes, exercise sheets and solutions check my personal webpage regularly!
Student Consultation
Office hours (Spring): Thursday (9:00-10:00)
Office hours (Sprimg): Thursday (14:00-15:00)