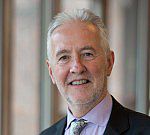 Prof
Brian Hudson
Biography
Brian Hudson is Emeritus Professor of Education and former Head of the School of Education and Social Work (2012-16) at the University of Sussex. He is also Senior Professor in Educational Work at Karlstad University in Sweden where he works with the ROSE research group - 'Research On Subject-Specific Education'. Currently he is the main Organiser of the WERA International Research Network on Didactics - Learning and Teaching and an Associate Editor of the Journal of Curriculum Studies. He is also Honorary Professor at the University of Dundee. Previously he has held professorial posts at the University of Dundee, Umeå University in Sweden and Sheffield Hallam University.
Before entering higher education he was a secondary school teacher of mathematics for fifteen years working in comprehensive schools, including five years as Head of Mathematics in an 11-18 high school. In 1995 he completed his PhD on 'Group Work with Multimedia in the Secondary Mathematics Classroom'. He was awarded a National Teaching Fellowship in 2004 and was granted Honorary Network Membership of the EERA Network Didactics - Learning and Teaching by the Council of the European Educational Research Association in 2016.
During the past three years he has worked as a reviewer for the Marcus and Amalia Wallenberg Foundation, Sweden; a member of the ESRC 2018 Centres Competition Commissioning Panel; a member of selection Committee for appointments to Universitat Rovira i Virgili in Didactics and Educational Organisation within the Serra Húnter Programme of the Government of Catalonia; a member of International Peer Review Panel on Educational Studies, Religion & Theology and Philosophy & History of Ideas of the Danish Council for Independent Research; an external reviewer for Committee on Research and Development of The Education University of Hong Kong; an external reviewer in Digital Technologies in Education for the Committee for Educational Sciences of the Swedish Research Council; a member of the College of Expert Reviewers for the European Science Foundation and an external evaluator of Educational Research for the Norwegian Research Council.
Role
Emeritus Professor of Education
Community and Business
Brian was an elected member of the Council and Chair of the Publications Committee of the College of Teachers from 2011 to 2015. He was a Founding Member of the Chartered College of Teaching in 2016.