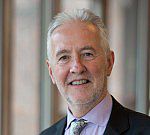 Prof
Brian Hudson
Biography
Brian Hudson is Emeritus Professor of Education and former Head of the School of Education and Social Work (2012-16) at the University of Sussex. Currently he is a member of the Outreach Committee of the World Education Research Association (WERA) Council, the main Organiser of the WERA International Research Network on Didactics - Learning and Teaching and serves as an Associate Editor of the Journal of Curriculum Studies. Also he is an Honorary Professor at the University of Dundee, Adjunct Professor at the University of Ghana and Guest Professor at Karlstad University.
Previously he was Chair of the Teacher Education Policy in Europe (TEPE) Network and represented the Scottish Educational Research Association (SERA) on the WERA Council until early in 2014. He was Professor of Education and Associate Dean for Research in the School of Education and Social Work at the University of Dundee from 2009 to 2012. Prior to that, he was Professor for ICT and Learning in the Department of interactive Media and Learning at Umeå University in Sweden and Professor of Education at Sheffield Hallam University.
Before entering higher education he was a secondary school teacher of mathematics for fifteen years working in comprehensive schools, including five years as Head of Mathematics in an 11-18 high school. In 1995 he completed his PhD on 'Group Work with Multimedia in the Secondary Mathematics Classroom'.
He was awarded a National Teaching Fellowship in 2004 and his associated project was on 'Developing a European Open and Flexible Networked Learning Community at Doctoral Level'. This was carried out alongside involvement in the EC funded 'European Doctorate in Teaching and Teacher Education' (EUDORA) at that time. In 2006 he led the establishment of the EERA Network 27 on Didactics, Learning and Teaching and was the main convenor until 2012. He was granted Honorary Network Membership by the EERA Council in 2016.
Role
Emeritus Professor of Education
Community and Business
Brian was an elected member of the Council and Chair of the Publications Committee of the College of Teachers from 2011 to 2015.