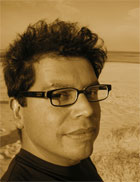 Work in the Alonso Lab investigates the molecular mechanisms controlling gene function during animal development. In particular, we seek to define the mechanisms and roles of RNA regulation within the genetic programs that underly the formation of complex tissues, such as the nervous system.
Over the last several years the lab has studied the function and regulation of a specific group of genes, the Hox genes, which encode an evolutionary conserved family of transcriptional regulators required for the correct head-to-tail patterning of animal bodies. We are currently using our close understanding of the Hox system to study: (i) the molecular mechanisms underlying alternative splicing, alternative polyadenylation, mRNA degradation and microRNA regulation in vivo, and (ii) the ways these RNA regulatory processes are linked to specific biological functions during neural development.
The Alonso Lab
My lab is driven by an international group of talented PhD students and post-docs with diverse backgrounds ranging from pure biochemistry to developmental genetics, population biology and computer science. The common denominator across all members of the group is our strong commitment to understand how gene activity is molecularly controlled within the physiological context of development and how gene regulatory programs flower out to form complex tissues such as the brain.
For more information on our research and publications please visit the Alonso Lab Webpage at: http://www.sussex.ac.uk/lifesci/alonsolab/
________________________
Informal enquiries about the Alonso Lab should be addressed to Claudio Alonso by email: c.alonso@sussex.ac.uk
I am the convenor of the 2nd year course Developmental Biology (c. 150 students). I lecture on several areas of Molecular, Cell and Developmental Biology including the following topics: Mechanisms of Gene Expression Control, Cell Structure and Function, Developmental Genetics and Developmental Evolution.
Alonso, Claudio R (2012) A complex 'mRNA degradation code' controls gene expression during animal development. Trends in Genetics, 28 (2). pp. 78-88. ISSN 0168-9525
Alonso, Claudio R (2012) A complex 'mRNA degradation code' controls gene expression during animal development. Trends in Genetics, 28 (2). pp. 78-88. ISSN 0168-9525
Patraquim, Pedro, Warnefors, Maria and Alonso, Claudio R (2011) Evolution of Hox post-transcriptional regulation by alternative polyadenylation and microRNA modulation within 12 Drosophila genomes. Molecular Biology and Evolution, 28 (9). pp. 2453-2460. ISSN 0737-4038
Avery, Paul, Vicente-Crespo, Marta, Francis, Deepthy, Nashchekina, Oxana, Alonso, Claudio R and Palacios, Isabel M (2011) Drosophila Upf1 and Upf2 loss of function inhibits cell growth and causes animal death in a Upf3-independent manner. RNA, 17 (4). pp. 624-38. ISSN 1355-8382
de Navas, Luis F., Reed, Hilary, Akam, Michael, Barrio, Rosa, Alonso, Claudio R. and Sánchez-Herrero, Ernesto (2011) Integration of RNA processing and expression level control modulates the function of the Drosophila Hox gene Ultrabithorax during adult development. Development, 138 (1). pp. 107-116. ISSN 1011-6370
Thomsen, Stefan, Anders, Simon, Chandra Janga, Sarath, Huber, Wolfgang and Alonso, Claudio R (2010) Genome-wide analysis of mRNA decay patterns during early Drosophila development. Genome Biology, 11 (9). R93. ISSN 1465-6906
Thomsen, Stefan, Azzam, Ghows, Kaschula, Richard, Williams, Lucy S. and Alonso, Claudio R. (2010) Developmental RNA processing of 3'UTRs in Hox mRNAs as a context-dependent mechanism modulating visibility to microRNAs. Development, 137 (17). pp. 2951-2960. ISSN 1011-6370
Reed, Hilary C, Hoare, Tim, Thomsen, Stefan, Weaver, Thomas A, White, Robert A H, Akam , Michael and Alonso, Claudio R (2010) Alternative splicing modulates Ubx protein function in Drosophila melanogaster. Genetics, 184. pp. 745-758. ISSN 0016-6731
Alonso, Claudio (2010) Gene regulation in eukaryotes. In: Genetics: from genes to genomes. McGraw-Hill. ISBN 9780073525266
Alonso, Claudio R (2008) The molecular biology underlying developmental evolution. In: Evolving pathways: key themes in evolutionary developmental biology. Cambridge University Press, pp. 80-99. ISBN 9780521875004
Alonso, Claudio R and Wilkins, Adam S (2005) The molecular elements that underlie developmental evolution. Nature Reviews Genetics, 6. pp. 709-715. ISSN 1471-0064
Alonso, Claudio R (2005) Nonsense-mediated RNA decay: a molecular system micromanaging individual gene activities and suppressing genomic noise. BioEssays, 27 (5). pp. 463-466. ISSN 0265-9247
Chang, Ming-Ling, Chen, Jeng-Chang, Alonso, Claudio R, Kornblihtt, Alberto R and Bissell, D Montgomery (2004) Regulation of fibronectin splicing in sinusoidal endothelial cells from normal or injured liver. Proceedings of the National Academy of Sciences, 101 (52). pp. 18093-18098. ISSN 0027-8424
Mössinger, Juliane C and Alonso, Claudio R (2004) Electronic evolution. Nature, 428 (6986). p. 896. ISSN 0028-0836
Roch, Fernando, Alonso, Claudio R and Akam, Michael (2003) The Drosophila miniature and dusky encode ZP-proteins required for cytoskeletal reorganisation during wing morphogenesis. Journal of Cell Science, 116 (7). pp. 1199-1207. ISSN 0021-9533
Alonso, Claudio R and Akam, Michael (2003) A Hox gene mutation that triggers Nonsense-mediated RNA decay and affects alternative splicing during Drosophila development. Nucleic Acids Research, 31 (14). pp. 3873-3880. ISSN 0305-1048
de la Mata, Manuel, Alonso, Claudio R, Kadener, Sebastián, Fededa, Juan P, Blaustein, Matı́as, Pelisch, Federico, Cramer, Paula, Bentley, David and Kornblihtt, Alberto R (2003) A slow RNA polymerase II affects alternative splicing in vivo. Molecular Cell, 12 (2). pp. 525-532. ISSN 1097-2765
Alonso, Claudio R (2002) Hox proteins: sculpting body parts by activating localized cell death. Current Biology, 12 (22). R776-R778. ISSN 0960-9822
Alonso, Claudio R, George, Jacob, Pesce, C Gustavo, Bissell, D Montgomery and Kornblihtt, Alberto R (2002) Fibronectin transcription in liver cells: promoter occupation and function in sinusoidal endothelial cells and hepatocytes. Biochemical and Biophysical Research Communications, 295 (5). pp. 1077-1084. ISSN 0006-291X
Alonso, Claudio R, Maxton-Kuechenmeister, Joerg and Akam, Michael (2001) Evolution of FTZ protein function in insects. Current Biology, 11 (18). pp. 1473-1478. ISSN 0960-9822
Rabinovich, G A, Alonso, C R, Sotomayor, C E, Durand, S, Bocco, J L and Riera, C M (2000) Molecular mechanisms implicated in galectin-1-induced apoptosis: activation of the AP-1 transcription factor and downregulation of Bcl-2. Cell Death & Differentiation, 7 (8). pp. 747-753.
Pesce, C Gustavo, Nogués, Guadalupe, Alonso, Claudio R, Baralle, Francisco E and Kornblihtt, Alberto R (1999) Interaction between the -170 CRE and the -150 CCAAT box is necessary for efficient activation of the fibronectin gene promoter by cAMP and ATF-2. FEBS Letters, 457 (3). pp. 445-451. ISSN 0014-5793
Alonso, Claudio R, Pesce, C Gustavo and Kornblihtt, Alberto R (1996) The CCAAT-binding proteins CP1 and NF-I cooperate with ATF-2 in the transcription of the fibronectin gene. Journal of Biological Chemistry, 271 (36). pp. 22271-22279. ISSN 0021-9258
Kornblihtt, A R, Pesce, C G, Alonso, C R, Cramer, P, Srebrow, A, Werbajh, S and Muro, A F (1996) The fibronectin gene as a model for transcription and splicing studies. FASEB Journal, 10. pp. 248-257. ISSN 0892-6638