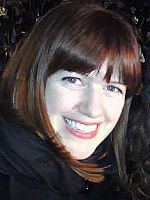 Ms
Harriet Barratt
Biography
I am a PhD student in the School of English at Sussex, researching how people relate to and represent material objects in illness. This work spans twentieth-century literature (including Virginia Woolf, Marcel Proust, Thomas Mann, Flannery O'Connor and Patrick Hamilton), psychoanalytic object relations theories (especially Donald Winnicott, Melanie Klein and Christopher Bollas), and the material culture of medicine. During 2016-17 I was resident in the Science Museum's Medicine team, researching objects in their extensive collections.
Before my PhD, I worked in academic publishing for Oxford University Press, EU communications in Brussels, public sector bid-writing at the Sector Skills Council for the creative and cultural industries, and arts partnership development/Widening Participation for the University of Brighton's College of Arts and Humanities. I am passionate about fair access to education, arts and culture, and the NHS.
I'm also a member of the BSUH NHS Trust's Onward Arts Group, helping to advise on the arts and culture programme across the Trust (see also http://onwardarts.org/). Over 2017-19 I will be supporting a Heritage Lottery Fund project designed to preserve the material heritage of the Royal Sussex County Hospital site in Brighton, which is currently undergoing a huge redevelopment.
LinkedIn: https://www.linkedin.com/in/harriet-barratt-0aba4413/
Academia.edu: https://sussex.academia.edu/HarrietBarratt
Twitter: @harrietmb
Qualifications
BA (Hons) in English Language and Literature at the University of Oxford (2002-05): Double First Class Honours
MA in Issues in Modern Culture (English department), UCL (2005-06): Distinction
PhD at the University of Sussex (Sept 2015 onwards), funded by CHASE, the Consortium for Humanities and the Arts in the South East (AHRC Doctoral Training Partnership) - see chase.ac.uk