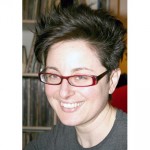 Dr
Aristea Fotopoulou
Biography
Dr Aristea Fotopoulou works at the intersections of media & cultural studies with science & technologies studies. She has written about information politics, knowledge production, and digital engagement, digital networks and feminism.
She is currently on Research Placement as 2014 Visiting Scholar at the Research Center Science and Justice, UCSC, where she examines data sharing and ownership in relation to digital health and algorithmic living (Tracking personal data project funded by RCUK Digital Economy NEMODE+).
As postdoctoral researcher (Research Fellow II) based in the Department of Media and Film, University of Sussex, she works on a media analysis of emerging technologies (smart grids, wearable sensors and in-vitro meat) contributing to the technology assessment collaborative project EPINET (Integrated Assessment of Societal Impacts of Emerging Science and Technology from within Epistemic Networks, FP7-SCIENCE-IN-SOCIETY-2012- European Commission) (with Kate O'Riordan). Her focus is on media, communications and digital culture.
Role
Dr Fotopoulou has just completed work in Storycircle (Framework for Innovation and Research in MediaCityUK (FIRM), an action research project which focuses on the social and digital conditions for narrative exchange and knowledge production (PI Nick Couldry, University of London, Goldsmiths College, Department of Media and Communications). She has also been involved as Research Assistant in the Horizon Scoping Study Digital expertise, literacy and knowledge (funded by the Digital Economy Communities and Culture Network+/EPSRC, PI Caroline Bassett). This project considers questions of digital literacy and, more broadly, questions of digital engagement and the kinds of expertise that are necessary to access/enable engagement.
Her thesis 'Remediating Politics: feminist and queer formations in digital networks' (2012) examined the possibilities and foreclosures for gender politics in digital environments today. It mapped forms of political organisation and knowledge production to indicate how understandings of the political and older debates around gender and sexuality are being reformulated in digital networks. Fotopoulou's earliest work explored blogs of disabled women, and methodological issues in queer studies and intersectionality. She taught in the School of Arts and Media at the University of Brighton between 2010-2012, and teaches in the School of Media and Film, University of Sussex since 2009.
Dr Fotopoulou has a rich educational background and diverse skills and expertise. At postgraduate level she studied Media and Cultural Studies, as well as Social Science Research Methods (Sussex). At undergraduate level she studied Physics (University of Ioannina), social sciences and media (Open University) and art & design (Middlesex University). She worked extensively in the digital media industry as an animator and 3D cg-artist before embarking on theoretical postgraduate studies.
Qualifications
PhD Media and Cultural Studies, MA Media and Cultural Studies, PGCert Social research Methods, BA (Hons) Art & Design, BSc Physics and Social Sciences
Activities
Recent Activities:
Media pieces
'The Quantified Self movement: reshaping participatory science and public engagement', in Participation Now! Section of

OpenDemocracy.net

(commissioned, in press).
Book review, Gender, media & Cultural studies text book supplement, Times Higher Education, November 2012.
Professional Membership