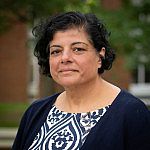 Prof
Divya Tolia-Kelly
Biography
Divya P. Tolia-Kelly is Professor of Geography & Heritage Studies at Sussex. Prior to this appointment she held lectureships in geography departments at U.C.L., Lancaster and a Readership at Durham until 2017. Divya has a BA (hons) from Nottingham (1997), and PhD (2002) from University College London.
Divya was born in Kenya and arrived in the UK in 1973. Her research is focussed on postcolonial and anti-racist approaches to cultural geographies, migration, landscape, memory, heritage, visual culture and material culture using participatory methodologies. Divya has published several articles on the theory and politics of 'race' in relation to these themes, including decolonising the academy, ethnocentrism in cultural politics and more recently on decolonising museums and race, affect and the anthropocene. Her books published include a monograph Landscape, Race and Memory (2010); Visuality/Materiality: Objects, Images and Practices (edited with Gillian Rose) and the co-edited volume (with Steve Watson and Emma Waterton) entitled Heritage, Affect and Emotion:Politics, practices and infrastructures (2016). Divya is currently Series Editor (with Emma Waterton) of the Routledge Book Series Critical Studies in Heritage, Emotion and Affect (https://www.routledge.com/Critical-Studies-in-Heritage-Emotion-and-Affect/book-series/CSHEA)
Divya is currently writing a research monograph entitled An Archaeology of Race at the Museum (contracted with Routledge) that links to the exhibition of the same name (https://www.dur.ac.uk/geography/race/exhibition/) developed with antiquarians, historians, curators and keepers of artefacts at Tullie House, Segedenum, Arbeia, Great North museums along Hadrian's wall.
Divya has a keen committment to praxis and thus is committed to extending her research on 'race' to the everyday environment of HE: working towards a truly universally inclusive place to work, research and write. Divya is thus committed to supporting the decolonising the curriculum and why isn't my professor black? campaigns through her equality and diversity work in situ. In this vein, Divya was the lead academic in setting up the Coaching and Mentoring Network at Durham (2012-17), and seeks to enable BAME and women accross academia to access equality of opportunity and support through direct coaching and mentoring support. Divya is also an inaugral committee member of the Royal Geographical Society's RACE Working Group (2017). Since December 2017, Divya has devised, conducted training for 18 staff and convened the Sussex BAME and Women's Coaching and Mentoring Network in Global Studies. This BAME and Women's Coaching and Mentoring Network will be formally launched in May 2020, and is available to anyone who is a member of staff at Sussex.
Role
Professor of Geography & Heritage Studies
Pronouns: She/Her/Hers
Office Hours: Mon 12-1pm; Wed 9-10am: Please do drop in or make an appointment via email.
Divya has a commitment to contribute to the decolonising the curriculum and equality and diversity initiatives in H.E. and within the School of Global Studies. She is an inaugral member of the RACE working group committee of the Royal Geographical Society and a ITLM5 trained coach and mentor with an expertise in working with women and BAME academic staff, to enhance thier retention and advancement in HE in response to these marked inequalities in progression see https://www.runnymedetrust.org/uploads/Aiming%20Higher.pdf
If you are interested in training to be a mentor or discussing the process please contact me. Also these documents enclosed give insight into the aims and nature of coaching / mentoring relationships: https://www.tandfonline.com/doi/full/10.1080/13611267.2010.492947
Divya has been co-convenor for the Global studies Annual Writing Retreat at Tilton House, Firle: http://www.tiltonhouse.co.uk/. The dates for 2020 are: Monday 22nd June to Wednesday 24th June - please get in touch if you would like to take part.
Divya is also holding the co-editor portfolio for 'intenationalisation' for the Journal of Historical Geography from Jan 2020: https://www.journals.elsevier.com/journal-of-historical-geography along with three new co-editors and editor-in-chief Nicola Thomas:https://geography.exeter.ac.uk/staff/index.php?web_id=Nicola_Thomas
Community and Business
Divya is committed to both Public Engagement and Research Impact. In 2010 she was awarded a 'Beacon Fellowship' for Public Engagement Fellowship. In her work, public dissemination, engagement and dialogue have always been at the heart of her research methodologies and reflect a theoretical commitment to grounded theory which is evidenced by the years of time committed to building research collaborations with the cultural heritage sector. Synthesis between Divya's research aims and current civic agenda has been a constant, and is reflected in collaborations with and support from several institutions including SASA gallery, Australia, The British Museum, Tyne and Wear museums, Towneley Hall Art gallery and Museum, Theatre on the Lake, Keswick, The Lake District National Park Authority, Burnley Pakistani Association; Durham University Museums; Arbeia Roman Fort museum, Tullie House Art museum and gallery, Durham Light Infantry museum and Art gallery, and the Cubitt gallery London.