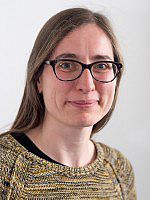 Dr
Catherine Will
Post:
Reader in the Sociology of Science and Technology (Sociology)
Other posts:
Member (Centre for Innovation and Research in Childhood and Youth)
Senior Lecturer in Sociology (Sussex Sustainability Research Programme, Sussex European Institute)
Location:
FREEMAN CENTRE G44
Email:
C.Will@sussex.ac.uk

Telephone numbers
Internal:
8449
UK:
01273 678449
International:
+44 1273 678449

Research expertise:

activism

,

citizenship

,

Consumer health

,

deliberation

,

Domestic material culture

,

Energy Efficiency

,

ethical consumption

,

Evidence and Policy

,

infrastructure politics

,

material culture and science

,

non-communicable diseases

,

Participation and engagement

,

Politics of (re)distribution and prioritisation

,

Science And Technology Studies

,

Social movements

,

Water Resources

download vCarddownload vCard to your mobile
Biography
Catherine works on health technology, practices and participation drawing on theory from Science and Technology Studies and sociology. She is particularly interested in knowledge production - how people experiment or develop their understanding of their world - and the moments when knowledge claims are linked with the negotiation of standards or policies, but also seeks to explore situations that are more about caring and doing than knowing.
Role
Senior Lecturer in Sociology
Community and Business
Catherine has links with a range of organisations in the field of health and wellbeing, including charities, voluntary organisations and partnerships aiming to improve health in different ways both locally and nationally. Her newest project, a study of self-monitoring practices, funded by the Leverhulme Trust, will also involve working with policymakers at NHS England and companies who produce and sell monitoring technologies. She writes about the politics, economics and organisation of health and healthcare for a general audience on the BSA Medical Sociology Group at Cost of Living.