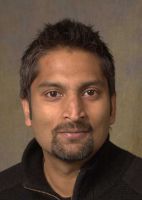 Dr
Keith Perera
Role

I have been closely associated with the University of Sussex since completing my PGCE in English here in 1994. I then worked as a teacher of English and Media Studies at Beacon Community College and returned for a part-time MA at Sussex in my first three years of teaching. I have specialised as a media teacher and worked in schools in East and West Sussex. Currently, I am an Assistant Headteacher at St Paul's Catholic College where I have a responsibility for leading the Inspire Teaching School Alliance and am the Senior Lead for the Sussex Maths Hub. I also lead the PGCE in Media Studies at the University of Sussex
An eternal student, I completed my PhD recently on the teaching of media studies:
Title: Poliliteracies: Teaching Immigration in the Social Media Age
What happens when consensus breaks down over what it is acceptable to 'think' or 'say' or 'do'? How is this reconciled with liberal notions of social justice and emancipatory politics?
Public debate about immigration (its definition, its value and its effects) often leads to the forming of unhelpful polarised posturing. My research explored the murky and complex world of classroom practice in which perceived political correctness, notions of national identity and the role of the teacher vied with young people's use of social media, familial influence and media learning in exploring how attitudes are formed, articulated and questioned.
Rejecting simplistic notions of power and agency, I explored the role of formal learning as a means for developing self-reflexivity through educative encounters that exposed some of the contradictory positions that are held about immigration. My researcher practitioner position offered a grounded account of the teaching of immigration with my A level media studies class over a 9 month period. My research documented a central challenge in post-Brexit Britain, to open up the space for sensible debate and discussion about immigration.