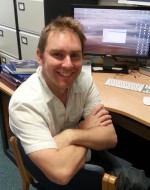 Dr
Matt Neale
Biography
Dr Matthew Neale is a Royal Society University Research Fellow in the Genome Damage and Stability Centre. Dr Neale heads a research group investigating mechanisms of DNA repair and homologous recombination.
Dr Neale completed his doctoral training at the University of Sheffield, under the supervision of Professor Alastair Goldman, and was awarded his PhD in 2002.
Dr Neale trained as a postdoc at the Sloan-Kettering Cancer Centre, New York, in the laboratory of Professor Scott Keeney. During this time Dr Neale was supported by a Long-term Fellowship from the Human Frontier Science Program (HFSP).
Dr Neale joined the GDSC in October 2007, funded by an independent fellowship from the Royal Society (recently renewed through 2015). Additional research grants were obtained from the Medical Research Council, the Royal Society, and a Career Development Award from the HFSP.
From January 2013, Dr Neale's research team became the recipient of a five-year Consolidator Grant from the European Research Council.
Dr Neale acts as an ad hoc reviewer of scientific manuscripts (Nature journals, DNA Repair, PLoS journals, MCB, Genetics) and research grants (Wellcome Trust, BBSRC, ANR, NSERC, Czech Science Foundation) relating to DNA repair, recombination and chromosome biology. Dr Neale sits on the editorial advisory board of the Royal Society Journal, Open Biology.
Role
Research group leader - Mechanisms of DNA repair and homologous recombination