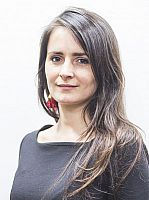 Dr
Karis Jade Petty
Post:
Lecturer in Anthropology and International Development (Anthropology)
Other posts:
Associate Tutor (Anthropology)
Teaching Fellow in Anthropology and (Centre for Global Health Policy)
Location:
ARTS C C148
Email:
K.Petty@sussex.ac.uk

Telephone numbers
Internal:
2552
UK:
01273 872552
International:
+44 1273 872552

Research expertise:
download vCarddownload vCard to your mobile
Role
Lecturer in Anthropology and International Development for undergraduate and postgraduate students. Karis has an Associate Fellowship of the Higher Education Academy and received Student-Led Teaching Awards for Outstanding or Innovative Undergraduate Teaching in 2016-17 and 2017-2018.
Facilitator for the Participatory Assessment of Kindness and Disability at the University of Sussex.
Secretary for the Evaluation of Research in the Social Sciences in Norway with Research Council of Norway.
Doctoral research investigated the perception of the South Downs landscape for walkers who have impaired vision through a phenomenologically and sensorially focused research methodology.
Current research interests include: phenomenology, perception, disability (particularly visual impairment), sensorial experience, wellbeing, human-inter-species connection, walking, memory, time, rural environments, intercorporeality, place and space, attention, sensorial research methodologies, apprenticeship research methodologies.
Connect via twitter here and Academia Eu here. For more information about my research please see my website: www.karisjadepetty.com.
Presentations
'Sensing the landscape: Recreational walking in the South Downs National Park for people who have impaired vision' at the South Downs Research Conference, Sussex, England, 6th July 2017.
'Cultivating the ecological self through sensory engagement with nature', at the 'Emerging Paradigms in Wellbeing Research: Nature, Mindfulness and Spirituality' symposium, 27 June 2017, University of Sussex, England.
'Reappraising the visual with respect to an ethnography of people who have impaired vision', invited presentation on the 'Visual world of difference' panel at the Royal Anthropological Institute Film Festival, 29 March – 1 April 2017, Bristol, England.
'Perception, the environment and the uncanny: Sensing the woodlands with a psychic medium who has impaired vision', paper presentation at 'Wonder and the Natural World' conference, June 20 – 23 2016, at Indiana University Bloomington, USA.
'A world within reach: a sensorial anthropology of unseen landscapes and the experience of impaired vision', presentation and workshop, at 'Language, Landscape and the Sublime' symposium and creative gathering, June 29-30 2016, at Dartington Hall & Sharpham House, Devon, England.
"Blind people need to teach sighted people how to listen": ethnography through the body in an anthropology of sensory perception. Paper presentation at European Association of Social Anthropologists 14th EASA Biennial Conference, 'Anthropological legacies and human futures', 20-23 July 2016, Milan, Italy. Part of the panel 'Doing ethnography through the body', convened by Lorenzo Ferrarini (University of Manchester) and Nicola Scaldaferri (University of Milano).
Co-organised 'Uncanny Landscapes' panel at 'Wild or Domesticated' interdisciplinary conference, 20-22 September 2016, at The House of Science and Letters, Helsinki, Finland. Presented paper titled: 'Perception, the environment and the uncanny: Sensing the woodlands with a psychic medium who has impaired vision'.
Publications
Petty, K.J. 2017. 'How do people with impaired vision experience the South Downs?'. South Downs National Park Authority. You can read this here.
Petty, K. J. 2017. Walking with impaired vision: an anthropology of senses, skill and the environment. Doctoral thesis (PhD), University of Sussex.
Petty, K.J. 2016. 'Unearthing the senses in our experience of woodlands'. Woodland Trust. You can read this here.
Petty, K. 2015. 'Walking through the woodlands: Learning to listen with companions who have impaired vision', in Bull, M. and Back, L., The Auditory Culture Reader. Bloomsbury.
Qualifications
PhD Anthropology, University of Sussex (2011 -2017)
Thesis title: Perception, nature and skill - The experience of being in the countryside for walkers who have impaired vision.
Topics of specialisation include: perception, senses, the body, nature, environment, walking, attention, enskillment, human-interspecies connection and a 'more-than-human' anthropology.
Key skills: ethnographic research methods, critical evaluation, analysis and assessment, project management.
· Apprenticeship Inclusive Arts Facilitator, Carousel, Brighton (Jan. – Dec. 2013)
Key skills: workshop leadership, inclusive and empowering facilitation methodologies, volunteers management, participant-led methodologies.
· Anthropology BA, First Class Honors, University of Sussex (Sept. 2006 – July 2009)
This involved two ethnographic fieldwork projects: motivations for volunteers in the charity sector and sensory perception of the environment for people who have disabilities.
· A-Levels, City College Norwich (Sept. 2004 – July 2006)
Sociology, grade A, Psychology, grade A, English Language and Literature, grade A