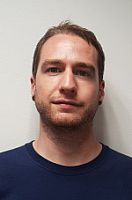 Mr
Dan Pryer
Biography
Third year PhD student in Large Scale Structure Cosmology, working with Dr Robert Smith and Dr Jon Loveday.
My research focuses on how to accurately model and estimate the power spectrum over large volumes and redshift ranges, relevant for up comming stage IV cosmology redshift surveys like 4MOST and DESI. I am a member of the 4MOST CRS team, and also serve as the extragalacitic rep on the 4MOST helpdesk.
Currently on long term attachment to the University of Swinburne, Melbourne (8/2019 - 11/2019).
Role
- PhD student in Cosmology
- Doctoral tutor
- PGR Rep (2017/2018 year)
Qualifications
MPhys Physics w/ Astrophysics (Research Placement) - University of Sussex, 2017, First Class honours