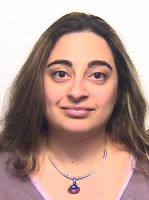 Prof
Louiza Odysseos
Biography
Louiza Odysseos joined the Department of International Relations in 2006, having previously taught at the School of Oriental and African Studies (SOAS), University of London and the London School of Economics and Political Science (LSE).
She holds a BSc in Foreign Service (magna cum laude) from Georgetown University, Washington DC. She undertook her postgraduate and doctoral degrees in the department of International Relations at the LSE, during which time she was also a member of the editorial team of Millennium: Journal of International Studies.
Currently, Louiza is Deputy Director of the Sussex Rights and Justice Research Centre and remains actively involved in the work of the Managament Committee of the Centre for Advanced International Theory (CAIT).
Role
Professor of International Relations
Deputy Director, Sussex Rights and Justice Research Centre
Management Committee, Centre for Advanced International Theory