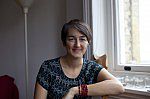 Prof
Anna Stavrianakis
Post:
Professor of International Relations (International Relations, International Development)
Other posts:
Director of Teaching and Learning (School of Global Studies)
Location:
ARTS B B379 MEDIA ENQUIRIES: 01273 873659
Email:
A.Stavrianakis@sussex.ac.uk

Telephone numbers
Internal:
7835
UK:
01273 877835
International:
+44 1273 877835

Research expertise:
download vCarddownload vCard to your mobile
Biography
*For media enquires, please call Stephanie Allen (Global Studies Media Relations Manager) on 01273 873659, who will put you in touch with Anna if she's out of the office.*
Anna joined the department in September 2006. Her main research interests are the international arms trade, UK arms export policy, international arms transfer control, and militarism and security in North-South perspective.
Her first book, Taking Aim at the Arms Trade. NGOs, Global Civil Society and the World Military Order (Zed Books, June 2010), analysed the way that NGOs such as Amnesty International, Oxfam, Saferworld and Campaign Against Arms Trade work for tigher controls on the arms trade.
Since then, she has written a series of articles about UK arms exports to Saudi Arabia and the war in Yemen; and the UN Arms Trade Treaty, which sets common international standards for the regulation of arms transfers. She is also the co-editor (with Jan Selby) of Militarism and International Relations: Political Economy, Security, Theory, published by Routledge (August 2012).
Anna is an Associate Editor at Security Dialogue, a top 10 journal in Political Science and International Relations. She co-edited the 2018 special issue on "Militarism and Security: Dialogue, possibilities, limits" with Maria Stern (University of Gothenburg).
Anna studied for her first degree at Bristol University (BA Politics and German, 2000), her Masters at the University of Wales, Aberystwyth (MScEcon Security Studies, 2001) and her PhD back at Bristol (Politics, 2007).
Role
Professor of International Relations
Director of Teaching and Learning, School of Global Studies
Previous roles
Peer Review College, Department of International Relations
MA Field Trip Convenor, Department of International Relations
Justice, Violence and Rights Centre Convenor
Associate Tutor convenor, Department of International Relations
Research in Progress convenor, Department of International Relations
University and College Union (UCU) Executive Committee member
Community and Business
Anna often works in collaboration with civil society organisations, social movements and parliamentarians, and engages publicly on arms trade issues.
She has given evidence to the parliamentary Committees on Arms Export Controls: in 2016 and 2017 she provided oral and written evidence to the committees in their inquiries into the use of UK-manufactured weapons in the war in Yemen, and into UK arms export policy during 2016. She has also acted as an expert witness in Information Tribunals and criminal trials for anti-arms trade protest.
You can watch Anna giving evidence to the parliamentary inquiry into arms sales to Saudi Arabia here:
http://parliamentlive.tv/Event/Index/2a6ce6a6-f51c-4210-847f-61bb66ba9c2b
Anna works with NGOs and campaign groups such as Campaign Against Arms Trade, the Control Arms coalition, and Saferworld, on issues such as the implementation of gender-based violence provisions in the UN Arms Trade Treaty and the effectiveness of a risk-based regulatory framework. She is a trustee of the Trust for Research and Education on the Arms Trade (TREAT), a member of the Brussels Group on Arms Exports, and a Listed Expert in the Forum on the Arms Trade.
Anna has written about UK arms export for a public audience and given interviews on radio about UK policy. These include:
"History won't look kindly on Britain over arms sales feeding war in Yemen," The Guardian, 30 November 2018, https://www.theguardian.com/global-development/2018/nov/30/history-will-not-look-kindly-on-britain-over-arms-sales-feeding-war-in-yemen
"How the murder of Jamal Khashoggi finally put the spotlight on UK arms sales and the war in Yemen," The Independent, 31 October 2018, https://www.independent.co.uk/voices/jamal-khashoggi-murder-saudi-arabia-yemen-civil-war-uk-arms-sales-criticism-a8610076.html
"Disarming claims about the Saudi war in Yemen," Open Democracy, https://opendemocracy.net/anna-stavrianakis/disarming-claims-about-saudi-war-in-yemen, 20 February 2016