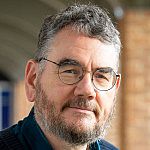 Prof
Jim Endersby
Post:
Professor of the History of Science (History)
Location:
ARTS A A165
Email:
J.J.Endersby@sussex.ac.uk
Personal homepage:
www.jimendersby.com

Telephone numbers
Internal:
8005
UK:
01273 678005
International:
+44 1273 678005

Research expertise:

charles darwin

,

darwinism

,

history and sociology of experimental organisms

,

history of botany

,

history of evolution

,

history of genetics

,

History of Science/Medicine/Technology

,

history of taxonomy and classification

,

History of the 19th and 20th-century life sciences

,

Hugo de Vries

,

Joseph Dalton Hooker

,

Oenothera Lamarckiana

,

science fiction

,

The Mutation Theory

download vCarddownload vCard to your mobile
Biography
I am currently working on a new book, The Arrival of the Fittest: Biology's Imaginary Futures, that will be a comparative study of the ways in which Anglo-American biology helped define the public sphere in the first quarter of the twentieth century. When that's done, I will be writing a new book about the reception of Darwinism for Routledge.
I am visiting professor of the History of Science at Gresham College, London. The free lectures I give there are live-streamed and can also be found on YouTube.
I am a specialist in the history of science, with particular interest in the impact of empire on nineteenth-century Britain, science and literature, and in the reception and influence of Darwinism. I am interested in hearing from prospective postgraduate students with interests in any area of Victorian British history, particularly the history of the sciences, or in the early/mid-twentieth century life sciences, particularly their social and cultural impacts.
My most recent book was Orchid: a cultural history, which was published by the University of Chicago Press (November 2016) and the Royal Botanic Gardens, Kew, in January 2017. It was awarded the Watson Davis and Helen Miles Davis Prize for the best book for a general audience by the History of Science Society in November 2018.
I did my first degree in History and Philosophy of Science at the University of New South Wales, followed by an MPhil and PhD in the HPS Department at Cambridge, after which I was a post-doctoral research fellow at Darwin College, Cambridge. I joined Sussex in 2007, was promoted to senior lecturer in 2009, to Reader in the History of Science in 2013, and Professor in 2018.
Awards, prizes and fellowships
2018: Watson Davis and Helen Miles Davis Prize awarded to Orchid: A cultural history, for the best book for a general audience by the History of Science Society.
2016–2017: Awarded Mid-Career fellowship, British Academy.
Since 2015: Member of the editorial board, British Journal for the History of Science.
2011: Imperial Nature awarded the Stafleu Medal of the International Association for Plant Taxonomy (IAPT).
2010: Imperial Nature shortlisted by the international History of Science Society for the Suzanne J. Levinson Prize (awarded biennially for a book in the history of the life sciences and natural history).
2010: Distinguished International Scholar and visiting professor in the Department of History and Sociology of Science at the University of Pennsylvania, Philadelphia, USA.
2007: A Guinea Pig's History of Biology (2007), won the Royal Society of Literature's Jerwood Prize and was longlisted for the Guardian First Book Award.
Community and Business
I have worked closely with the Royal Botanic Gardens, Kew for many years, most recently on an exhibition and conference to commemorate the 200th anniversary of Joseph Hooker's birth, in 2017. I have also been a historical consultant to BBC to and Radio 4, and presented my first program for them, "Crafty Orchids", in 2016.