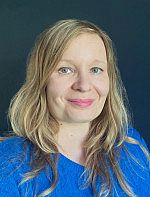 Dr
Mari Martiskainen
Biography
Dr Mari Martiskainen is a social scientist with a specific interest in the transition to a more fair, clean and sustainable energy world. Her research centres around energy policy, with specific focus on the issues of developing low energy housing, addressing energy poverty and promoting renewable energy. Dr Martiskainen has worked with a range of conceptual approaches, including sustainability transitions, innovation intermediation, user innovation, power and politics. Dr Martiskainen has authored several articles in journals such as Energy Research & Social Science, Environmental Innovation and Societal Transitions and Environment and Planning A. She has written book chapters, conference proceedings and invited blog posts. She is a reviewer for several international journals, including Energy Research and Social Science, Energy Policy and Journal of European Social Policy. Dr Martiskainen presents her research regularly to a range of audiences, including international conferences.
Dr Martiskainen has worked with a range of stakeholders and partners, including community groups, not-for-profit organisations, businesses and consultants. She has experience from various communication channels, ranging from TV and radio to social, print and online media.
Prior to joining the University of Sussex, Dr Martiskainen worked for RenewableUK (formerly the British Wind Energy Association), concentrating on small-scale wind energy systems and engaging widely with industry and stakeholders. Her previous experience includes a post as an Editor at www.bunkerworld.com, where she conducted research in the global marine fuels sector and sustainable shipping fuels.
For more details about Dr Martiskainen's career at Sussex, see Spotlight on Dr Mari Martiskainen.
You can also find Dr Martiskainen on Google Scholar and ResearchGate.
Role
Dr Mari Martiskainen is a Research Fellow at the Centre on Innovation and Energy Demand, based at Science Policy Research Unit (SPRU), University of Sussex. Dr Martiskainen is member of the Sussex Energy Group, also based at SPRU. She is also an affiliate Researcher of the Tyndall Centre for Climate Change Research.
Qualifications