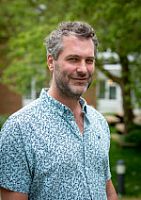 Prof
David Ockwell
Post:
Professor of Geography (Geography, International Development)
Other posts:
Head of Department of Geography (School of Global Studies)
Reader in Geography (The Sussex Energy Group)
Location:
ARTS C C255
Email:
D.Ockwell@sussex.ac.uk

Telephone numbers
Internal:
7090 or 7238
UK:
01273 877090 or 01273 877238
International:
+44 1273 877090 or +44 1273 877238

Research expertise:
download vCarddownload vCard to your mobile
Biography
Follow me on Twitter @DavidOckwell
BSc 1st Class Hons in Environmental Economics and Evaluation (York); MSc Distinction in Environmental Assessment and Evaluation (LSE - ESRC funded); PhD in Environment and Politics (York - NERC/ESRC funded)
I teach, lead research, supervise doctoral students and provide policy advice on climate change policy with a particular focus on low carbon technology transfer and development, and on public engagement with climate change. I have led research collaborations with partners in several developing countries and provided policy advice to inter-governmental organisations (including the UN Framework Convention on Climate Change Secretariat, African Development Bank, Commonwealth Secretariat and OECD Environment Directorate) and governmental departments in developed and developing countries (including the UK, India and Chile).
Role
I am a Professor in the Department of Geography, co-convenor of the Climate and Energy research domain in the ESRC STEPS Centre, a member of the Sussex Energy Group at SPRU (Science and Technology Policy Research), Fellow of the Tyndall Centre for Climate Change Research and a board member of the Low Carbon Energy for Development Network (LCEDN).
My research, teaching and international policy advisory work focusses on sustainable technology, innovation and development, with a particular current focus on sustainable energy access and climate technology transfer and development. I also have a nascent interest in work on public enagement with climate change and low carbon behaviour change.