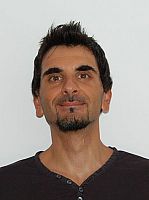 Mr
Georgios Voulgaris
Biography
I am currently an EPSRC funded PhD student and my project is focused on Autonomous Sensing and Sampling Drones for Water Quality Monitoring.
Prior to this, I worked as a Control and Automation Design Engineer for the oil and gas industry, where I was exposed to the full software and hardware life cycle, systems sensing and control, communications, project planning and management.
In addition, I designed and produced an automated greenhouse. The project was used as a platform that enabled me to conduct extensive research, whilst getting practical exposure to various aspects of the embedded software and hardware life cycle.
Role
Doctoral Student
Doctoral Tutor (Advanced Electronic Systems 524H1)
Doctoral Tutor (Industrial Automation Mechatronics 875H1)
Qualifications
Current: Doctoral Student, Engineering and Informatics.
2013 – 2018: Automated Greenhouse
2006 – 2013: Design Engineer, Rockwell Automation
2005 – 2006: MSc in Modern Digital Communication Sytems, University of Sussex
2001 – 2005: BEng Hons in Electronics with Communications Engineering, University of Brighton