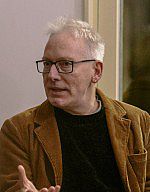 Prof
Ben Highmore
Post:
Professor of Cultural Studies (Media and Film)
Other posts:
Director of Research and Knowledge Exchange (School of Media, Film and Music)
Reader in Media Studies (Centre for Photography and Visual Culture)
Location:
ARTS B B261
Email:
B.Highmore@sussex.ac.uk

Telephone numbers
Internal:
3339
UK:
01273 873339
International:
+44 1273 873339

Research expertise:
download vCarddownload vCard to your mobile
Biography
BA (Sheffield Hallam), MA (Leeds), PhD (London)
I studied fine art in the mid-1980s before going on to complete an MA in the Social History of Art at the University of Leeds in 1990. I started teaching cultural studies in various universities from 1991. I completed my doctoral studies at Birkbeck College, University of London in 2000. My thesis was titled 'Everyday Life and Cultural Theory' and became my first book. Between 1993 and 2006 I taught cultural studies in Bristol at the University of the West of England. In 2007 I joined the University of Sussex.
Recent Books:
The Art of Brutalism: Rescuing Hope from Catastrophe in 1950s Britain, New Haven and London: Yale University Press and the Paul Mellon Centre for Studies in British Art, 2017.
Cultural Feelings: Mood, Mediation, and Cultural Politics, London and New York: Routledge, 2017.
Culture (Key Ideas in Media and Cultural Studies), London and New York: Routledge, 2016.
The Great Indoors: At Home in the Modern British House, London: Profile Books, 2015.
I supervise doctoral research (PhDs) in a range of fields: cultural history and media studies; art history; photography history; urban culture; everyday life studies; theoretical work. I am keen to support experimental doctoral research (in methods and in presentation).
Role
I am a professor of cultural studies