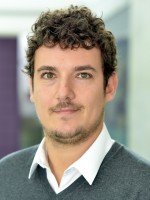 Dr
Roberto Camerani
Biography
Dr Roberto Camerani is as Research Fellow at SPRU (Science Policy Research Unit). He holds a PhD in Science and Innovation Studies from SPRU. His PhD thesis was about the adoption and diffusion of innovations in the context of consumer products. He also has an MSc in Innovation and Industry Analysis at SPRU and a degree in Economics at Bocconi University. Before joining the University of Sussex he worked in a number of projects at ICRIOS (previously named CESPRI, Bocconi University, Milan) and INGENIO (CSIC-UPV, Valencia).
His main research interests are in the field of innovation studies, including the adoption and diffusion of innovations, innovation in the creative industries and digital sectors, user-driven innovation, firm growth and innovation, science and technology indicators, patent and publication analysis, open science and open innovation, corporate publishing.
Research projects [Ongoing]
Creative Industries Policy & Evidence Centre (PEC)
• www.pec.ac.uk
• Funded by: Arts & Humanities Research Council
• Role: Co-Investigator
• Period: 2018-2023
The PEC is part of the Creative Industries Clusters Programme and aims to provide independent research and authoritative recommendations that will aid the development of policies for the UK's creative industries, contributing to their continued success. The PEC is led by Nesta and involves a UK-wide consortium of universities and other institutions. The role of SPRU in the Centre is to lead the work strand on Clusters and Innovation.
Research infrastructure for research and innovation policy studies (RISIS2)
• www.risis.eu
• Funded by: European Commission Horizon 2020
• Role: Principal Investigator for the University of Sussex
• Period: 2019-2022
RISIS2 (and the and the previously EU-FP7 RISIS ) is an open science project that has been designed to promote a research infrastructure to advance science and innovation studies. The main goal of the project is to collect, harmonise, and interlink a number of datasets which could be used for science and innovation research and to made them accessible through a unified platform to all European researchers. The project comprises a large consortium of European universities and research centres. The main role of SPRU is to work on firm-level datasets and to develop a firm register uniquely identifying, integrating and tracking over time the most innovative businesses across Europe.
Research projects [Completed]
RISIS 1 (Research Infrastructure for Research and Innovation Policy Studies)
• www.risis.eu
• Funded by: European Commission FP7
• Role: Research Fellow
• Period: 2014-2018
PASCO (Publication activity of Scoreboard Companies)
• Website
• Funded by: European Commission JRC-IPTS
• Role: Co-Investigator (PI: Daniele Rotolo)
• Period: 2016-2017
The Fusion Effect: The economic returns to combining arts and science skills
• Website
• Funded by: Nesta
• Role: Principal Investigator for the University of Sussex
• Period: 2015-2016
Brighton Fuse 2
• http://www.brightonfuse.com
• Funded by: AHRC
• Role: Principal Investigator for the University of Sussex
• Period: 2013-2015
Brighton Fuse
• http://www.brightonfuse.com
• Funded by: AHRC
• Role: Research Fellow
• Period: 2012-2013