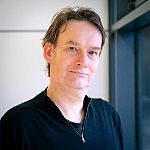 Dr
Ben Roberts
Biography
Ben Roberts is Lecturer in Digital Humanities (Digital Media / Computational Culture) in the School of Media, Film and Music and Sussex Humanities Lab. His background is in philosophy of technology. He has published widely on the French media philosopher Bernard Stiegler and edited a special issue of the journal New Formations dedicated to his work.
He is currently completing a book on critical theory and contemporary technology. Ben also has an interest in media archaeology and has recently edited (with Mark Goodall) an essay collection called New Media Archaeologies.

Before taking up his new post at Sussex, Ben has held posts as a web programmer and as Lecturer in the School of Media, Design and Technology at the University of Bradford.
Ben was PI of the AHRC Automation Anxiety Network. The network aimed to be a springboard to allow participants from a range of different disciplines as well as non-academic areas to develop future projects addressing automation anxiety. We adopted a critical perspective on varieties of automation anxiety, seeing them as part of a wider debate about contemporary computational culture.
The workshops were organised around three key modalities of contemporary automation anxiety: human obsolescence through the automation of cognitive labour, or the end of (human) expertise; human (in)security through the automated extension of military power or law enforcement; and human (in)attention, forms of automation or delegation to machines which themselves produce anxiety or instability through their operation or uncanny effects. The work from this network is currently being edited for publication as a special issue of New Formations.