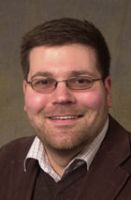 Dr
Andy Chandler-Grevatt
Biography
Summary
I have a background in biological science and a Masters in climate effects on plant molecular biology. I was a secondary science teacher for ten years, five of which I was an Advanced Skills Teacher specialising in formative assessment. I am interested in subject knowledge development in trainee teachers and my intellectual passion is Assessment for Learning through levelled assessment in science.
Professional Activities
Member, Association for Science Education (ASE)
Member, Cams Hill Science Consortium (CHSC)
Teaching
Most aspects of Science Education for GTP & PGCE courses, particular interests in Assessment for Learning; Assessment in Science Education; Levelled Assessment; Teaching science to gifted and talented pupils; Explaining Science in the Classroom.
Role
Qualifications and position
BSc(Hons) MSc PGCE EdD
Teaching and Research Fellow, Science Education
Curriculum Tutor for Science PGCE
MAES supervisor