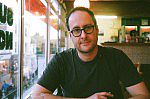 Prof
Keston Sutherland
Biography
I joined Sussex in 2004 after a PhD and BA at Cambridge and a year at Harvard as the Joseph Hodges Choate Fellow. In 2013 I worked at UC Berkeley as the Holloway Poetry Fellow and in 2015 at Princeton as the Bain-Swiggett Professor of Poetry.
Since 1995 I have co-edited Barque Press with Andrea Brady. Together with Joe Luna, Natalia Cecire and Sam Solomon, and previously with Sara Crangle and Daniel Kane, I have run the Sussex Poetry Festival since 2010.
My research and critical work extends polymorphously into a number of fields and contexts.
I write about Marx as a philologist, critical theorist, literary critic and Marxist, and am currently working on a book called The Poetics of Capital that explores the potential of the fundamental concepts of the critique of political economy to give shape and direction to a poetics adequate to the task of describing and valuing the most extreme, original and radical poetry of the contemporary moment. Parts and early drafts of this work have been delivered in recent years as papers on the poets Stuart Calton, Anna Mendelsson, Lisa Robertson and Verity Spott.
I am the editor of the complete critical prose of J.H. Prynne and have published many essays and articles on Prynne's poetry. I have written widely on contemporary and twentieth-century British and American poetry and in particular on its most experimental or insurgent practitioners, including Andrea Brady, Kevin Davies, Simon Jarvis, Frank O'Hara, Veronica Forrest-Thomson, John Wieners and John Wilkinson.
I have also written or given papers on Wordsworth, Keats, Hegel, Pope, social realism, Leo Bersani, Adorno, Beethoven, Rosa Luxemburg, Michael Haneke, Feuerbach, Laplanche and Derrida.
My poetry has been published widely and translated into a number of languages. Enitharmon published in 2015 my Poetical Works 1999-2015. Films of my readings are available on You Tube. I have translated poetry from French, Italian and German, including previously untranslated work by Jean-Michel Espitallier and Monika Rinck, and co-translated the work of Iraqi poet Reem Kubba from Arabic.
I have supervised doctoral students working on Marxism, Geoffrey Hill, J.H. Prynne, Ezra Pound, Vladimir Mayakovsky, George Oppen, Douglas Oliver, Walt Whitman, Charles Olson and Samuel Beckett. I am interested in hearing about potential research projects from students who want to work on anything exciting.
Some recent readings and talks:
My soundcloud channel: https://soundcloud.com/keston-sutherland
My Vimeo channel: https://vimeo.com/user55293318
'Affect Storms' at the University of Sussex, 12/4/17
'Blocks: form since the crash' at The University of Chicago, 19/11/15
'Blocks: form since the crash' at the Organism for Poetic Research, NYU, 13/11/15.
Reading at Princeton University, 10/12/15
Reading at the Poetry Project, New York, 21/10/15
Sinking Feeling (one part), 6/1/16
Role
Professor of Poetics.