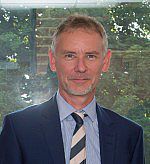 Prof
Simon Thompson
Biography
After completing my secondary education at Littlehampton Comprehensive School in the 1980s I graduated with a first class degree in History from the University of Worcester. I undertook a PGCE here at Sussex in 1994 followed by an MA in American History. As Head of History I taught History and Politics in Brighton during the 1990s. In 2002 I joined the University of Sussex as PGCE History Tutor and convened a degree course for secondary teaching assistants. In 2005 I took on the leadership role of Director of Initial Teacher Education which I enjoyed until 2015. I have been a member of the ESW School Management Team since 2013 and currently lead the Department of Education as Head of Education.
Role
Head of Education
Senior Lecturer in Education
Community and Business
Locally I am proud to be a school governor at Brighton Aldridge Community Academy, Portslade Aldridge Community Academy and Davison High School for Girls. I work closely with schools and colleges across Sussex and sit on the strategic boards of regional Teaching School Alliances including: Inspire, Thrive and Pavillion and Downs and I'm currently chair of the Sussex Maths Hub. I am also a member of the Brighton and Hove Local Authority Strategic Partnership Board.
Nationally I represent Sussex at the Universities' Council for the Education of Teachers management committee and in 2017 I was elected to the national executive.
Recent international work has included professional development consultancy and courses in Kazakhstan, Nigeria and Beijing.