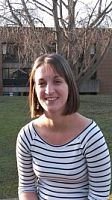 Mrs
Rachel Latham
Biography
2013-2017 PhD Psychology, University of Sussex
Thesis title: Mothers' and fathers' perceptions of the family context and children's adjustment: Coparenting young twins.
2015-2016 Research Intern at the Early Intervention Foundation (6 months)
2010-2013 Social Work Resource Officer, Brighton & Hove Children's Services
2009-2010 Community Family Worker, Brighton & Hove Children's Services
2004-2007 BSc Psychology (1st class), University of Sussex
My interest in Psychology has always been in the area of Developmental Psychology. After completion of my undergraduate degree I was keen to gain hands-on experience and so I worked for several years on the frontline of children's services. As a Community Family Worker I delivered family support and parenting work to 'at risk' families in the community, and also supervised contact between 'Looked After Children' and their birth families. As a Social Work Resource Officer (working in a child protection/child in need team and child in care team) I was the allocated worker for a caseload of vulnerable children, responsible for their care plan and all-round support.
In 2013 I was delighted to commence doctoral research studies under the supervision of Dr Bonamy Oliver and Dr Alison Pike. My experience as a practitioner has provided valuable context to my academic studies and also prompted my recent internship at the Early Intervention Foundation, where research evidence is used to inform practice and policy.
Role
Doctoral Researcher, Developmental Psychology
Associate Tutor, Psychology
Activities
Associate Researcher of the Early Intervention Foundation (EIF).
Member of The Nurture Lab research group: Our research centres on family and twin designs, to better understand the role of children's experiences within the context of their genetic propensities. We are particularly interested in parenting, sibling relationships, friendships, and play in relation to prosocial and disruptive behaviours.
Associate Tutor representative (2014-2015).
Co-organiser of the 'Clinical & Developmental Research In Progress' (CDRIP) fortnightly seminar series (2014-2015).