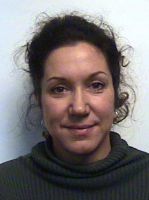 Ms
Carina Westling
Biography
Prior to beginning my research, I worked with live performance and events production for many years, before expanding into cross-platform content development and multimedia production for web publication and installations.
I am particularly interested in how devising practices and structuring of experience in performance can deepen and widen the scope for audience engagement in digital media. I am researching how production methods and circumstances inform and shape not just the work being produced in immersive theatre and digital media, but also the perspective on audience engagement in performance and digital media, and the nature of the designed interaction. As a bridge between these two areas, I research how this is approached in HCI (Human-Computer Interaction).
I have chosen ethnographic participant studies as my main methodology. I am working with leading immersive theatre company Punchdrunk , where I take an active part in the building of productions. I am also participating, as an active researcher, in human-computer interaction experiments using motion capture technologies, together with a small team of scientists in the UK and Switzerland. While being an active, publishing researcher in these collaborations, I am maintaining an ethnographic perspective on the 'production methods' within the HCI field, and their influence on the produced work.
My research aim is to formulate a cross-disciplinary model for understanding the main mechanisms behind enhanced audience engagement, and a multi-modal model for describing and quantifying engagement across discipline boundaries.
Role
Associate Tutor
Research student
Qualifications
Qualifications
BA Fine Art Sculpture (Hons) University of Brighton
MA Digital Media Art, University of Brighton
Activities
Collaborations and enterprises

TheNimbus Group (Creative Director) 2010-present
Funding
Arts Council England funding for 0-1, delivered by The Nimbus Group, 2010
Arts Council England funding for The Nimbus, delivered by The Nimbus Group, 2013
Memberships
University of Sussex, Excursions Journal (editor) 2010-present
Interaction Design Foundation (member) 2011-present
Conferences/events (organising)
Inputs-Outputs conference, University of Sussex (June 2013)
Purity (Excursions), Univserity of Sussex (July 2013)
Conferences/events (attending)
EVA 2012 (London, UK)
ECCE 2012 (Einburgh, UK)
Workshop on Laughter and Non-Verbal Vocalisations 2012 (Dublin, Ireland)
SSPnet Summer School 2013 (Vietri Sul Mare, Italy)
EVA 2013 (London, UK)
ECCE 2013 (Toulouse, France)