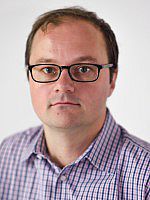 Biography
I received my BA in Modern History at the University of Oxford in 1997, after which I completed an MA in Political Philosophy at the University of York, before returning to Oxford in 1998 to begin doctoral research. I received my D.Phil. in Politics in 2002. In 2003-4, I was an ESRC Postdoctoral Fellow in the Department of Politics and International Relations at Oxford. I also worked as a part-time Lecturer at St Catherine's and then Balliol College. I joined Sussex in 2004 and I am currently a Senior Lecturer in Politics.
Politics of immigration in liberal democracies

Migration policy and policymaking in the UK and Europe

Border controls and digital technologies

Racial politics and anti-racism

Citizenship and naturalization policies
I am the Principal Investigator for a six-country project on Migration to Europe in the Digital Age (MEDiA), funded by a planning grant under the call 'Europe and Global Challenges' by Compagnia di San Paolo, Riksbankens Jubileumsfond, and VolkswagenStiftung.
Current doctoral students
Erica Consterdine - UK immigration policymaking from the 1970s to the present (ESRC funded)
Satoko Horii - Frontex and the evolution of cooperation on European border controls (JASSO funded)
Francesco Napolitano - the role of non-state actors in shaping EU decision-making structures and outcomes in the area of Judicial Co-operation
I am interested in supervising projects in the following areas: migration politics and policies, particuarly in a European context, race and anti-racism, and citizenship.
Taught courses
At the undergraduate level, I convene the first and second year courses on Foundations of Politics and Modern Political Thought, and I offer a third year option on Contemporary Political Theory. At the postgraduate level, I teach a Masters course on The Politics of Citizenship and Immigration.
Student Consultation
My office hours for Spring 2013 are Mondays 2-3 and Thursdays 3-4.
Hampshire, James (2013) The politics of immigration: liberal democracy and the transnational movement of people. Polity Press, Cambridge. ISBN 9780745638980 (In Press)
Hampshire, James and Bale, Tim (2012) Easier said than done? The Conservatives, the coalition, and immigration policy. In: Cameron and the Conservatives: the transition to coalition government. Palgrave Macmillan, Basingstoke. ISBN 9780230314108
Hampshire, James (2012) Race and representation: the BME shortlists debate in Britain. In: Immigrant politics: race and representation in Western Europe. Lynne Rienner Publishers Inc, Boulder, pp. 33-52. ISBN 9781588268303
Bale, Tim, Hampshire, James and Partos, Rebecca (2011) Having One's Cake and Eating It Too: Cameron's Conservatives and Immigration. Political Quarterly, 82 (3). pp. 398-406. ISSN 0032-3179
Hampshire, James (2011) Liberalism and citizenship acquisition: how easy should naturalization be? Journal of Ethnic and Migration Studies, 37 (6). pp. 953-971. ISSN 1369-183X
Hampshire, James (2010) Becoming citizens: naturalization in the liberal state. In: Citizenship acquisition and national belonging: migration, membership and the liberal democratic state. Palgrave Macmillan, Basingstoke, pp. 74-90. ISBN 9780230203198
Hampshire, James (2009) The Future of border control: risk management of migration in the UK. In: Migration and mobility in Europe: trends, patterns and control. Edward Elgar, Cheltenham, pp. 229-248. ISBN 9781848443716
Hampshire, James (2009) Race. In: The Oxford Handbook of British Politics. Oxford University Press, Oxford, pp. 629-645. ISBN 9780199230952
Hampshire, James (2008) Disembedding liberalism?: Immigration politics and security in Britain since 9/11. In: Immigration policy and security: U.S., European, and Commonwealth perspectives. Routledge, New York and London, pp. 109-129. ISBN 9780415990820
Hampshire, James (2006) Immigration and race relations. In: The labour governments, 1964-70. Routledge, Oxon & NY, pp. 309-329. ISBN 9780714656199
Hampshire, James (2005) The politics of immigration and public health. Political Quarterly, 76 (2). pp. 190-198. ISSN 0032-3179
Hampshire, James (2005) Citizenship and belonging: immigration and the politics of demographic governance in postwar Britain. Migration, Minorities and Citizenship . Palgrave Macmillan, London & NY. ISBN 9781403918185
Hampshire, James (2005) The politics of school sex education policy in England and Wales from the 1940s to the 1960s. Social History of Medicine, 18 (1). pp. 87-105. ISSN 0951-631X
Hampshire, James and Lewis, Jane (2004) "The ravages of permissiveness": Sex education and the permissive society. Twentieth Century British History, 15 (3). pp. 290-312. ISSN 0955 2359
Hampshire, James (2003) Sex education: policy and politics in England and Wales. Education and Health, 21 (2). pp. 29-34. ISSN 0265-1602
Broeders, Dennis and Hampshire, James Dreaming of seamless borders: ICTs and the pre-emptive governance of mobility in Europe. Journal of Ethnic and Migration Studies. ISSN 1369-183X (In Press)