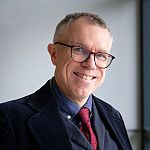 Dr
Russell Whiting
Post:
Senior Lecturer in Social Work and Care (Social Work and Social Care)
Other posts:
Head of Department for Social Work & Social Care (Social Work and Social Care)
Location:
ESSEX HOUSE EH218
Email:
R.Whiting@sussex.ac.uk

Telephone numbers
Internal:
8241
UK:
01273 678241
International:
+44 1273 678241

Research expertise:
download vCarddownload vCard to your mobile
Biography
Qualifications and Position
BA (Hons), MSW, PhD
Lecturer of Social Work
Programme Director, BA in Social Work
Admissions Tutor
Summary
My social work experience is mainly with children and families - specifically most recently managing a family centre for a voluntary agency in London. Prior to that worked for statutory social services department as a manager of a respite care unit for children with learning disabilities. Before that I spent a number of years abroad living in Bosnia and before that in The Netherlands.
My PhD was on the history and current practice of social work as a profession in the churches in Britain. I maintain an interest in social work history and in the topics of religion and spirituality in social work practice and education.
Along with colleagues in the department I an interested in social work education as a research topic and how research can advance the quality and standing of that education.
Professional Activities
Chair, Social Work Christian Fellowship
Member, Social Work History Network
Member, British Association for the Study of Spirituality
Teaching
I convene modules on the BA qualifyiong programme on Social Work with Children and on Values, Ethics and Theories. On the MA qualifying programme I co-convene a module on Theories, Methods and Values in practice.
I also contribute to other teaching at qualifying, post qualifying and doctoral level particularly on professional ethics and values and on religion and spirituality
Tutoring
I see the tutoring role as key to my work and currently I am tutor for a group of BA first year students and a group of MA first year students.
Admissions
I am currently admissions tutor for both the BA and MA in social work courses.
Doctoral Supervision
Currently I am supervising doctoral students studying social work and eugenics and social work and post-secularism.
Recent Research
Human Growth and Development, Mental Health and Disability (funded by SCIE)
Integrated Children's Services in Higher Education (funded by HEFCE)
Interprofessional Education for Qualifying Social Work (funded by SCIE)
I am currently researching and writing about the use of biography in social work history and on manners as embodied social work values.
Recent Publications
Whiting, R. (2010) Christianity and Ethics in Gray, M. and Webb, S.A. Ethics and Value Perspectives in Social Work. Basingstoke, Palgrave Macmillan.
Boushel,M., Whiting, R. and Taylor, I. (2010) SCIE Report 32: How we become who we are: The teaching and Learning of human growth and development, mental health and disability on qualifying social work programmes. London. SCIE http://www.scie.org.uk/publications/reports/report32.asp
Whiting, R. (2008) No room for religion or spirituality or cooking tips:exploring practica atheism as an unspoken consensus in the development of social work values in Britain. Ethics and Social Welfare Vol.2 pp.67-83
Whiting, R. (2008) For and against: The use of a debate to to address the topic of religion and spirituality on social work education. The Journal of Practice Teaching and Health in Social Work Vol 8, No3. pp77-79
Taylor, I., Sharland, E. and Whiting, R. 2008. Integrated Children's Services in Higher Education Project: Knowledge Review, York: Higher Education Academy.
Book Reviews
"Spiritual Diversity in Social Work Practice" (2nd Edition) by Edward Canda and Leola Furman in The British Journal of Social Work (2011) Vol. 41 (5) pp. 1005-1007
"Religion, Belief and Social Work: Making a Difference" by Sheila Furness and Philip Gilligan in The British Journal of Social Work (2010) Vol. 40 pp.1644-1645
Recent Conference Presentations
Whiting, R. (2011) Muriel Lester -Christian Pacifist: The value of a biographical approach to social work history. Paper given at the Beyond Belief Conference: Religion and Belief in Professional Practice, University of Bradford, September
Boushel, M., Whiting, R., Taylor, I. (2010) Paper on SCIE Report 32: How we become who we are: The teaching and Learning of human growth and development, mental health and disability on qualifying social work programmes. Joint Social Work in Education Conference, University of Hertfordshire, July
Whiting, R. (2010) Dorothy Day: A Particular Spirituality. Paper given at the 1st conference of the Bristish Association for the Study of Spirituality, London, May
Role