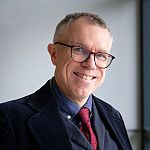 Dr
Russell Whiting
Post:
Senior Lecturer in Social Work and Care (Social Work and Social Care)
Other posts:
Head of Department for Social Work & Social Care (Social Work and Social Care)
Location:
ESSEX HOUSE EH218
Email:
R.Whiting@sussex.ac.uk

Telephone numbers
Internal:
8241
UK:
01273 678241
International:
+44 1273 678241

Research expertise:
download vCarddownload vCard to your mobile
Biography
Qualifications and Position
BA (Hons), MSW, PhD
Senior Lecturer of Social Work
Head of Department
Summary
My social work experience is mainly with children and families - specifically most recently managing a family centre for a voluntary agency in London. Prior to that worked for statutory social services department as a manager of a respite care unit for children with learning disabilities. Before that I spent a number of years abroad living in Bosnia and before that in The Netherlands.
My PhD was on the history and current practice of social work as a profession in the churches in Britain. I maintain an interest in social work history and in the topics of religion and spirituality in social work practice and education.
Along with colleagues in the department I an interested in social work education as a research topic and how research can advance the quality and standing of that education.
Professional Activities
Member, Social Work History Network
Member, British Association for the Study of Spirituality
Teaching
I convene modules on the BA qualifyiong programme on Social Work with Children and on Values, Ethics and Theories. On the MA qualifying programme I convene the Human DEvelopment and SOcial Responsibility Module. At our Partner institution, University Collge Jersey I convene the Values, Ethics and Theories module.
I also contribute to other teaching at qualifying, post qualifying and doctoral level particularly on professional ethics and values and on religion and spirituality
Tutoring
I see the tutoring role as key to my work and currently I am tutor for groups of BA first year and third year students.
Recent Publications
Luckock, Barry, Sims, Louise, Whiting, Russell, Meleyal, Lel and Hampden-Thompson, Gillian (2017) Cornerstone Adoption Support Programme: evaluation report. Project Report. Department for Education, London.
Luckock, Barry, Whiting, Russell, Meleyal, Lel, Sims, Louise and Hampden-Thompson, Gillian (2017) Coram's permanence improvement project: children's social care innovation programme evaluation report 24. Project Report. Department for Education.
Whiting, Russell (2017) Material spirituality: challenging gnostic tendencies in contemporary understandings of religion and spirituality. In: Crisp, B (ed.) Routledge Handbook of Religion, Spirituality and Social Work. Routledge, Abingdon.
Whiting, Russell and Gurbai, Sándor (2015) Moving from the implicit to the explicit: 'spiritual rights' and the United Nations Convention on the rights of persons with disabilities. Canadian Journal of Disability Studies, 4 (3). pp. 103-126. ISSN 1929-9192
Whiting, Russell (2015) Gestures of mutuality: bridging social work values and skills through Erasmian humanism. Ethics and Social Welfare, 9 (4). pp. 328-342. ISSN 1749-6535
Whiting, Russell (2015) Don't mention the war: a response to Reeves and McIvor on the early career of Clement Attlee. Renewal: a Journal of Labour Politics, 23 (1/2). pp. 117-126. ISSN 0968-252X
Whiting, Russell (2013) Gandhianism in London: Bringing the past to bear on the present in discussion of the social work and spirituality of Muriel and Doris Lester. International Social Work, 56 (3). pp. 403-415. ISSN ISSN: 0020-8728
Role
Currently Head of Department for Social Work and SOcial Care - Appointed January 2019