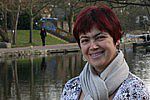 Dr
Mirela Barbu
Biography
After graduating from the Academy of Economic Sciences in Bucharest, I undertook an MSc in Economics in Turin and an MA in Enterprise Management in Ancona, followed by my doctoral studies in Economic Geography at the University of Sussex. During a 15-year period spent in Italy I had the opportunity to work in the field of active labour policies at top institutional level. This valuable experience crystallised in my PhD which focused on the last Keynesian labour market policy in Italy, the so-called 'socially useful jobs'.
Before joining the School of Business at University of Sussex, I held a lecturer position at King's College London and following that, a postdoctoral research associate position and a lecturer positon at Queen Mary University of London.
Since moving into an academic environment, what has driven my research interest is understanding how globalization has impacted on entrepreneurship, especially in developing countries which have joined global value chains with the hope of sharing major economic gains of world development. I am particularly interested in how small and medium enterprises can work in challenging situations, both as a liberating force for development, but also requiring new solutions, the establishment of social and business networks and positive institutional environments. My recent research has focused on ways in which national and international institutions use trade regulations to promote better social standards in global value chains.
Role
Lecturer in Logistics and Supply Chain Management
Community and Business
Mirela Barbu (Queen Mary University of London), Liam Campling (Queen Mary University of London), Franz Ebert (Max Planck Institute for Comparative Public Law and International Law, Heidelberg), James Harrison (University of Warwick), Deborah Martens (Ghent University), Axel Marx (Leuven Centre for Global Governance Studies), Jan Orbie (Ghent University), Ben Richardson (University of Warwick), Adrian Smith (Queen Mary University of London) (authors listed in alphabetical order) (2017) "A Response to the Non-paper of the European Commission on Trade and Sustainable Development chapters in EU Free Trade Agreements", 26 September 2017, document available from the authors
Barbu M., Smith A, Campling L., Harrison J. and Richardson B. (2017) "Note on the State Labour Inspectorate in the Republic of Moldova", technical note for the chairs of the Domestic Advisory Groups under the EU-Republic of Moldova Association Agreement, document available from the authors.
Harrison J., Barbu M., Campling L., Richardson B. and Smith A. (2016) "Labour standards in EU free trade agreements", GREAT Insights, ECDPM's Magazine, vol. 5, issue 6, Dec16/Jan 17, 32-34
Smith A., Barbu M., Harrison J., Campling L. and Richardson B. (2016) "Labour Provisions in the European Union – Republic of Moldova Association Agreement", in Handbook on Assessment of Labour Standards in Trade and Investment Arrangements, International Labour Organization, Geneva
Barbu M., Lisi S., Mammoliti E., Silani L. and Valentini L. (2009), 'Policy Analysis and The Service Model', Policy Notes 4: Work & Development, second part, 127-240 (policy report prepared by the Italian Agency for Active Labour Policies for the Ministry of Labour)
Barbu M. (2001) Cooperation and Socially Useful Jobs. The Value of a Price-less Policy, Rivista della cooperazione [Journal of Cooperation] no. 4: 9-14