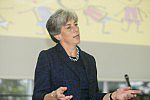 Prof
Gillian Ruch
Role
Gillian Ruch is Professor of Social Work and works in the Department of Social Work and Social Care at the University of Sussex. She teaches and researches in the areas of child care social work and relationship-based and reflective practice and is committed to enhancing the wellbeing of children, families and practitioners. Her particular interests are in promoting psycho-social research methods and reflective forums that facilitate relationship-based practice. She has co-edited with colleagues Ruch, G., Turney, D. and Ward, A. (2010) Relationship-based Social Work: Getting to the Heart of Practice, London: Jessica Kingsley and Ruch, G. and Julkenen, I. (2016) (eds.) Relationship-based Research in Social Work, Jessica Kingsley Publishers, London.
Gillian welcomes expressions of interest from potential doctoral students interested in child and family social work, professional wellbeing and psycho-social methodologies.
Other relevant publications include:
Hingley-Jones, Helen and Ruch, Gillian (2016) 'Stumbling through'? Relationship-based social work practice in austere times. Journal of Social Work Practice, 30 (3). pp. 235-248. ISSN 0265-0533
Ruch, Gillian, Winter, Karen, Cree, Viv, Hallett, Sophie and Hadfield, Mark (2016) Making meaningful connections: using insights from social pedagogy in statutory child and family social work practice. Child and Family Social Work. ISSN 1356-750
Winter, K., Cree, V.E., Ruch, G., Hallett, S., Hadfield, M., Morrison, F. (2016) Effective communication between social workers and children and young people', British Journal of Social Work, First published online: July 15, 2016, doi: 10.1093/bjsw/bcw083

Turney, D. and Ruch, G. (2016) Thinking about Thinking after Munro: The Contribution of Cognitive Interviewing to Child-Care Social Work Supervision and Decision-Making Practices, British Journal of Social Work, 46 (3): 669-685
Liz Beddoe, L., Karvinen-Niinikoski, S., Ruch, G. and Tsui, M. (2015) Towards an International Consensus on a Research Agenda for Social Work Supervision: Report on the First Survey of a Delphi Study, British Journal of Social Work, 1–19

Ruch, G., Lees, A. and Prichard, J. (2014) Getting beneath the surface: Scapegoating and the systems approach in a post Munro world, Journal of Social Work Practice, 28:3, 313-327.