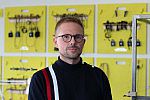 Prof
Thor Magnusson
Post:
Professor of Future Music (Music)
Other posts:
Head of Department of Music (School of Media, Film and Music)
Location:
SILVERSTONE SB 214
Email:
T.Magnusson@sussex.ac.uk
Personal homepage:
Sonic Writing

Telephone numbers
Internal:
8137
UK:
01273 678137
International:
+44 1273 678137

Research expertise:

Composition

,

Computational Creativity

,

Computer Music

,

Creative Coding

,

History Of Music

,

Human computer interaction

,

Improvisation

,

Live Coding

,

Music

,

Music Technology

,

Notations and visualisations

,

Organology

,

Performance

,

Performance And Live Art

,

Philosophy

,

Philosophy of Technology

,

Software Engineering

download vCarddownload vCard to your mobile
Biography
Thor Magnusson's work focusses on the impact digital technologies have on musical creativity and practice, explored through software development, composition and performance. Thor's research is underpinned by the philosophy of technology and cognitive science, exploring issues of embodiment and compositional constraints in digital musical systems. He is the co-founder of ixi audio (www.ixi-audio.net), and has developed audio software, systems of generative music composition, written computer music tutorials, and created two musical live coding environments. As part of ixi, he has taught workshops in creative music coding and sound installations, and given presentations, performances and visiting lectures at diverse art institutions, conservatories, and universities internationally. Thor has presented work and performed at various festivals and conferences, such as Transmediale, Ars Electronica, Ertz, Darmstadt Summer School, Encounters Festival, Dark Music Days, RE:New, Sonar, ISEA (International Symposium for Electronic Arts), ICMC (International Computer Music Conference), NIME Conference (New Interfaces for Musical Expression), Impact festival, Soundwaves, Cybersonica, Ultrasound, and Pixelache.
Personal website: ixi audio
Current Research: Sonic Writing and MIMIC

Music software: ixi software
Research writing: publications
Twitter: @thormagnusson
Code repository: thormagnusson

Orcid: 0000-0002-3731-0630
Experimental Music Technologies Lab: www.emutelab.org
Book: Sonic Writing: Technologies of Material, Symbolic, and Signal Inscriptions
Role
Senior Lecturer in Music; Convenor of Music Technology.
Community and Business
Workshops
During the past decade I have given workshops internationally, ranging from creative coding, instrument building and sound synthesis, to musical composition, in both academic and arts institutions. The workshops have focussed on the use of open source programming environments for designing bespoke technologicial objects for artistic expression.

Juries, Committees and Editorial Boards
- Member of the AHRC Peer Review College
- Chair of the 2016 Live Interfaces Conference (ICLI)
- Co-chair of the 2015 International Conference for Live Coding (ICLC)
- Meta-reviewer for the paper tracks of New Interfaces for Musical Expression (NIME)
- Artistic reviewer for New Interfaces for Musical Expression (NIME)
- Member of the Steering Group of the Seeing Sound Symposium
- Programme Committe member of the IEEE Symposium on Visual Languages and Human-Centric Computing
- Committee member for the Computational Aesthetics Conference
- Reviewer for International Computer Music Conference (ICMC)
- Program Committee of the Web Audio Conference
- Reviewer for the Seismograph Journal of Sonic Arts
- Programme Committee for TENOR (Conference on New Technologies for Music Notation and Representation)
- Reviewer for Computer Music Journal
- Conference committee for XCoAx (A Conference on Computation, Communication, Aesthetics and X)
- Programme Committee of EvoMUSART, The International conference on Evolutionary and Biologically Inspired Music, Sound, Art and Design
- Reviewer for the Council for the Humanities of the Netherlands Organization for Scientific Research (NWO, the Dutch Research Council)
- Reviewer for the Interaction Design and Children conference
- Review Panel for Seismograf/PR - A peer reviewed platform of contemporary music and sound art
- Editorial Board for REFRAME - Open Access Research in Media, Film and Music
- Periodic Review board of the Faculty of Media Arts and Production, University of Bedfordshire.
- Reviewer for the International Symposium on Computer Music Multidisciplinary Research (CCMR)
- Reviewer for the International Conference on Computational Creativity (ICCC)

Professional Memberships
AI Alliance - European Commission AI Alliance
HUMAINT - Human Behaviour and Machine Intelligence - European Commission
ICMA – International Computer Music Association
CAS – Computer Arts Society
SID - COST IC0601-Action on Sonic Interaction Design (EU funded research body)
COGS – Centre for Research in Cognitive Science
Space-Net – Spatial Audio Creative Engineering Network
LAM – Live Algorithms in Music
TOPLAP - Temporary Organisation for the Proliferation of Live Audio Programming
SMC – Sound and Music Computing Research Community Network
LCRN – Principal Investigator of the Live Coding Research Network
ESSA – Member of European Sound Studies Association